AG11 WATER STORAGE AREAS
Include rainwater storage elements in the network of public and natural spaces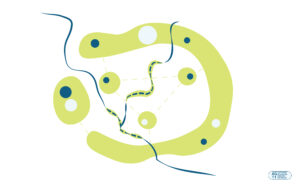 Aim
Many cities have natural elements (rivers, streams, ponds, wetlands, etc.) that can increase water collection and storage capacity, enriching the municipal natural heritage by re-naturalising their watercourses and/or linking water storage to the public space network and its future design.
Why?
To mitigate the effects of climate change, increasing the resilience capacity of the territory against water imbalances (increased periods of drought and torrential rains), minimizing the risks of erosion, subsoil pollution and waste of energy and water resources.
The progressive degradation and diminution of freshwater reserves worldwide makes it necessary to take steps to increase the quality and quantity of available water resources.
Transforming public spaces and river and natural corridors into a place of collection and storage of runoff has a high incidence:
– Decreasing flooding due to torrential rains
– Reducing energy consumption by not discharging the accumulated volume of water onto the sewerage networks, reducing the flows that have to be evacuated and purified.
– Integrating rainwater treatment into the urban landscape.
– Protecting water quality by reducing the effects of diffuse pollution.
How?
► 01 MANAGEMENT OF EXISTING WATER RESERVES
Based on the restoration of existing water resources, the recovery of degraded or disappeared natural ecosystems and/or the creation of new ones through:
-Restoration of riverbanks and recovery of riparian systems
-Recovery of natural courses: opening of piped channels, elimination of channelling works or physical barriers, dams, etc. ("returning rivers to their natural space")
-Segregate flood areas from watercourses, controlling flood plains as a control and risk management. It is not a question of seeking no flooding at all, but of flooding in a controlled manner where the least harm is produced and where the greatest environmental benefits are generated.
– Topographical modifications that make it possible to value the existing geography as depressed places, small watercourses, places for storing runoff (green cords linked to watercourses, lamination ponds, bio-retention areas, etc.).
► 02 PLANNING THE PUBLIC SPACE AND THE WATER CYCLE TOGETHER
Redesign the city's network of public spaces, linking their design and management to the regulation of the water cycle.
► 03 DESIGNING A SUPERFICIAL STORAGE NETWORK (TEMPORARY AND PERMANENT)
Urban and periurban parks, sports fields and gardens are ideal places to consider temporary or permanent water storage, due to their size, public ownership and maintenance system to create ponds or laminationn basins.
► 04 DESIGN AN UNDERGROUND RESERVE NETWORK
For the storage and re-use of rainwater, formed by closed structures where the water collected in the common spaces is stored, both in permeable or impermeable layers.
They admit a wide range of designs and materials, based on their size according to the average precipitation of the area where they are located. Some can improve water quality through filtration/depuration systems, and can be implemented with a control of the filling start (the first 10 minutes of rain do not accumulate, cleaning the surface to capture contaminants).
Urban/landscape project and strategic plan for flood prevention through water management and river restoration in the peri-urban environment of Kjørbekkdalen, Skien. Source: Celia Martínez Hidalgo and Marja Skotheim Folde, Skien Council, Norway. EXAMPLES OF SURFACE AND UNDERGROUND STORAGE (TEMPORARY AND PERMANENT) LINKED TO THE NETWORK OF PUBLIC SPACES:
Skatepark in Roskilde, Denmark
White balance – COP15, SLA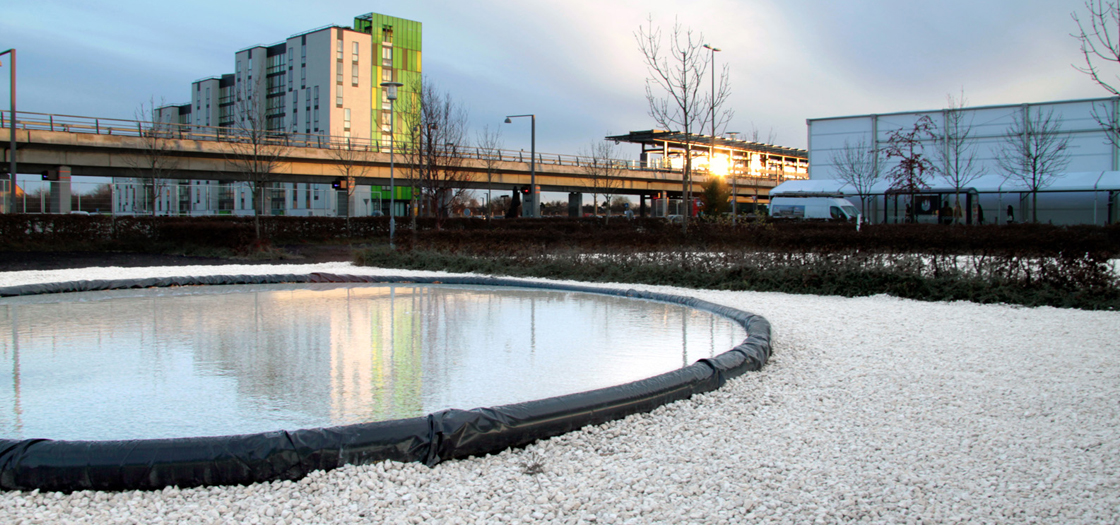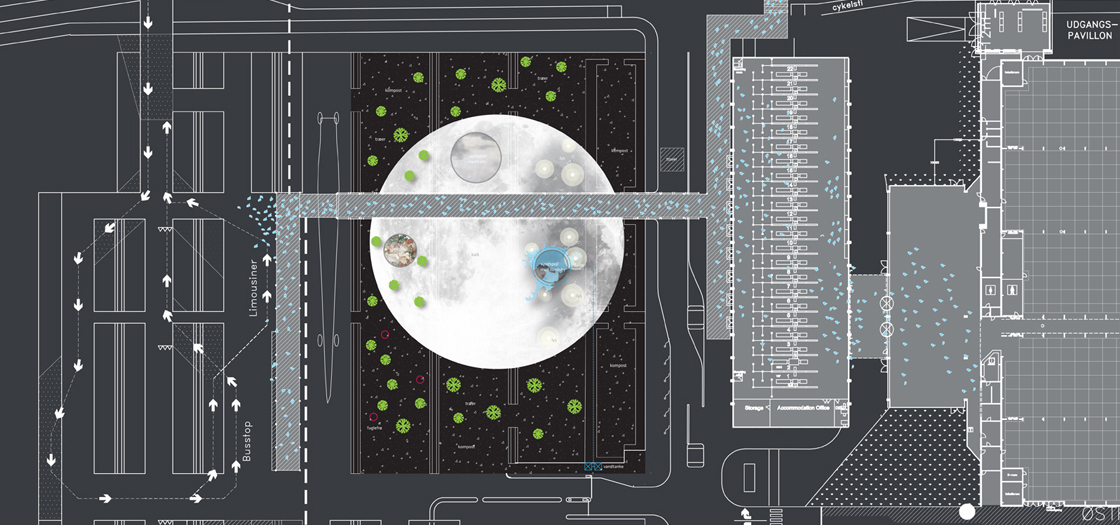 Nørresundby Urban Garden, SLA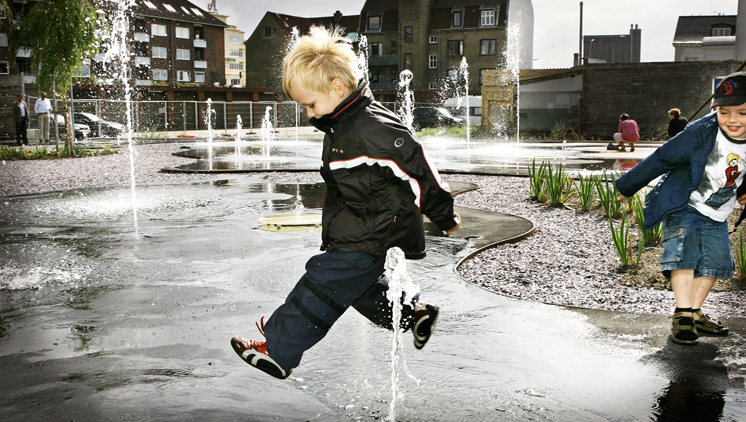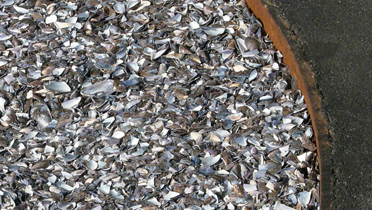 SUITABLE FOR COMBINING WITH OTHER SOLUTIONS
Indicator
Reduction of energy consumption per m3 taken from the WWTP (∆CE)
Secondary indicator
Water Self-sufficiency
Unit
(I1) m2 of retention area in public and natural space→ ∆CE
(I2) % reduction in invoiced water
Minimum goal
(I1) > 60% of m2
(I2) >5% of AH (> 35% of AH for non-consumptive uses)
Desirable goal
(I1) > 95% of m2
(I2) >15% of AH (> 50% of AH for non-consumptive uses)
Measure method / Formula
(I1) ΔCE = [A x B]
A: m3 caught
B: Energy consumption in MWh per m3 treated at the WWTP
(I2) AH = [A / B] x 100
A: rainwater harvesting potential
B: total water consumption
Building project
Plotting and urbanization project
Design team
Private Owner
Neighbourhood Communities
Possible actions promoted by the administration
– Mapping the network of natural areas (Ramsar, Biosphere Reserve, etc.)
– Map the network of public spaces with storage capacity: peri-urban parks, floodable areas of urban watercourses, large urban parks or wooded areas, sports tracks, etc.
What should we consider for its implementation?
– The water regime in the area
– The characteristics of the subsoil
– Coordination with the policies and plans of the hydrographic control authority
– The quality of surface waters and possible sources of pollution
– The existence of environmental precautions with respect to flora and fauna
– It is necessary to face tasks of maintenance and cleaning of the channels
– The high initial cost arising from the acquisition of land, the production of technical reports or the need for hydraulic engineering works.
– Conflicts between uses and sectorial policies (Hydrological Plans, urban plans).