AG13 PURIFICATION OF RUNOFF IN RIVER CORRIDORS/WATERCOURSES
Inclusion of water purification buffer spaces before river corridors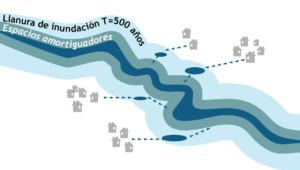 Aim
Retain, sediment and purify solids and pollutants from urban runoff, agriculture and cattle farming before reaching natural watercourses.
Why?
To improve the quality of urban rivers and their flood plains. Favouring biodiversity and extending the community's natural heritage.
► Main benefits:
– Regulation of the hydrological cycle
– Better adaptation to climate change, improving flood control
– Prevention of surface water and groundwater pollution by reducing the effects of diffuse pollution and improving water quality.
– Increase in biodiversity
– Improvement of soil quality
– Improvement of river ecosystems
– Enhancing biodiversity and ecological connectivity
– Improvement of the perception of the landscape and of the city-rail relations.
How?
Through the insertion of a buffer space along the main watercourses, which implies their re-naturalisation in the urban environment. It will be formed by a sequence of strips from the riverbed, of riparian vegetation and typical species from the fluvial environments on both banks that will filter the water from the urban runoffs, just like "kidneys".
The protected area extends the width of the Public Water Domain with a strip of 100 m on each side, where land use and activities are regulated. It will favour reforestation and natural soil cushioning, creating a large buffer space for runoff, which like a "sponge" retains, filters and infiltrates the purified water into the subsoil.
Within the riverbed, in the secondary riverbeds and in the runoff lines, naturalization will be supported with the addition of green filters and artificial wetlands that recreate the natural fluvial systems, extending the buffer zone to the floodplain for a return period of 500 years.
Diagram of elements for the retention and purification of urban runoff along river corridors.


Buffer in Rondout Creek, Accord, NY, Source: https://www.clearwater.org/green-cities/watershed-management/rondout-creek-watershed-council/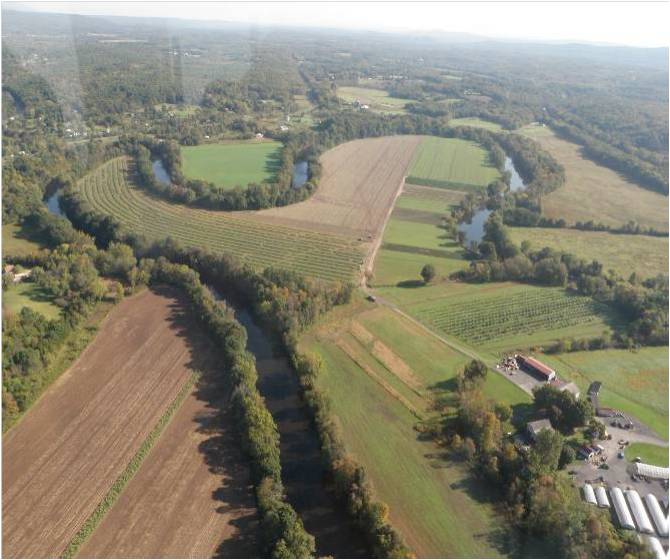 Shanghai Houtan Park: Landscape as a Living System , wetland system on terraces. Source: https://www.asla.org/2010awards/006.html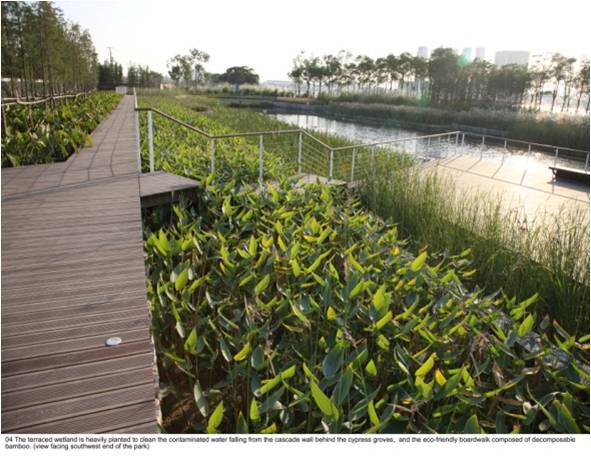 Example of a wetland integrated into an urban park as a management system for contaminated runoff on the ground by industrial activity. Source: http://www.hargreaves.com/work/chattanooga-renaissance-park/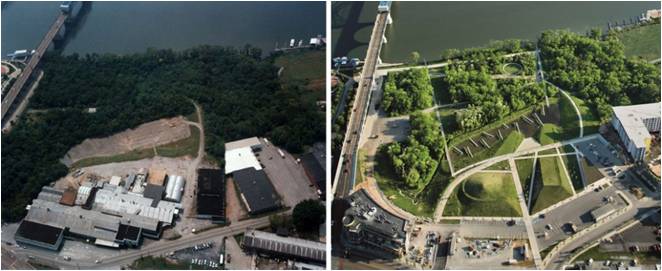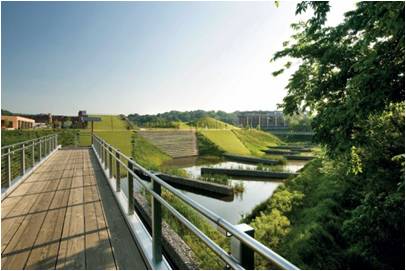 SUITABLE FOR COMBINING WITH OTHER SOLUTIONS
Indicator
Reduction of energy consumption per m3 taken from the WWTP (∆CE)
Secondary indicator
Treated water
Unit
(I1) m2 of buffer spaces → ∆CE
(I2) %
Minimum goal
(I1) Purify 100% of wastewater
(I2) Fulfillment of water quality required by regulations
Desirable goal
(I1) Purify 100% of wastewater
(I2) Achieve zero discharge of polluted water into the natural environment
Método de medición / Formula
(I1) ΔCE = [A x B]
A: m3 of treated water
B: Energy consumption in MWh per m3 treated at the WWTP
(I2) % = [A / B]
A: m3 treated water
B: m3 of rainwater
General and development plans
Supramunicipal and natural resources plans
Local government technicians
Province/ General administration technicians
Natural spaces or water resources agents.
Maintenance, infrastructure and waste companies.
Design and planning team
Possible actions promoted by the administration
– Define the public hydraulic domain by the hydrological authority
– Acquisition of the necessary land along the channel, ensuring as a minimum the space established as public domain hydraulic and police area
– Map runoff lines and points of discharge into urban and natural wastewater streams in the basin.
What should we consider for its implementation?
– The water regime
– Basin plans
– Flood plains (ordinary, 100 years old and 500 years old)
– The type of contaminants