PC02 CITIZEN INTERVENTION IN PUBLIC SPACE
Direct intervention of citizens in the development of sustainable solutions
Aim
The Involvement of Citizens in Urban Strategies in the Face of Climate Change. Interventions can be related to the communication of concepts through demonstrative activities, development of a series of workshops that carry out small built performances and low-cost artistic, heritage or social-cultural activities.
Why?
This different Urban Solutions are not restricted to the administration or the promoting agents. The improvement of the urban space for people, from communities, cooperatives, associations, social dynamizers and/or with certain municipal collaboration, creates participation, involvement and feedback processes with the needs, preferences or demands of the
population.
They provide multiple benefits that can go far beyond the scope and goal of adaptation to climate change for which they were originally designed and offer various collateral benefits in terms of environmental quality, health and welfare, urban regeneration capacity or improved habitability conditions.
How?
Urbanism promoted by citizens seeks an approach to the participative construction of the urban environment that offers some special characteristics as opposed to the conventional process:
– Development of individual ideas for planning challenges
– Short-term commitments and realistic expectations
– Low risk, with a high benefit in terms of involvement and disclosure
– Development of social capital among citizens
– Creation of organized structures between public institutions, citizen communities and individuals
There is a wide range of examples with different approaches and objectives. A basic procedure model is that part of an organisation that encourages residents to build temporary facilities that turn underused public spaces into community places where they can perform some sustainable leisure activity or promote low-cost sustainable actions. Projects start
with citizens with ideas for their neighbourhoods, but look for administrations, businesses or civic groups that can provide funding and other forms of support (such as design services). This grassroots process helps simplify management processes while building community bonds and optimizing governance.
The municipal administration can launch intervention processes such as the Paris Council permis de vegetaliser project that invites residents to become gardeners in their neighbourhoods. It offers them to choose open spaces close to where they live, for example the doors of their houses or the streets, so that they can plant vegetation and thus be
part of the process of making their environment more sustainable. After selecting the planting points, they must request a three-year renewable licence that allows them to plant in the public spaces of their neighbourhoods. It also gives them the opportunity to get guidance on which are the most suitable plants or formats for certain places, which can be fruit trees, vines or gardeners. When the council licenses a new "citizen gardener," it also gives him a planting kit and asks him to sign a letter of commitment which is what makes the difference to the program as compared to carrying out this initiative individually. It means committing not to use pesticides and to ensure the maintenance of the plants, flowerpots and structures involved.
In some cases, the commemoration of a special day such as the European Mobility Week in the street is used to claim it as the setting for sustainable mobility and, above all, as a public space for social mixing and exchange, solidarity, culture, trade, accommodation, learning and play. The Europeanmobilityweek campaign also has resources that can be made available in if it fits its methodology.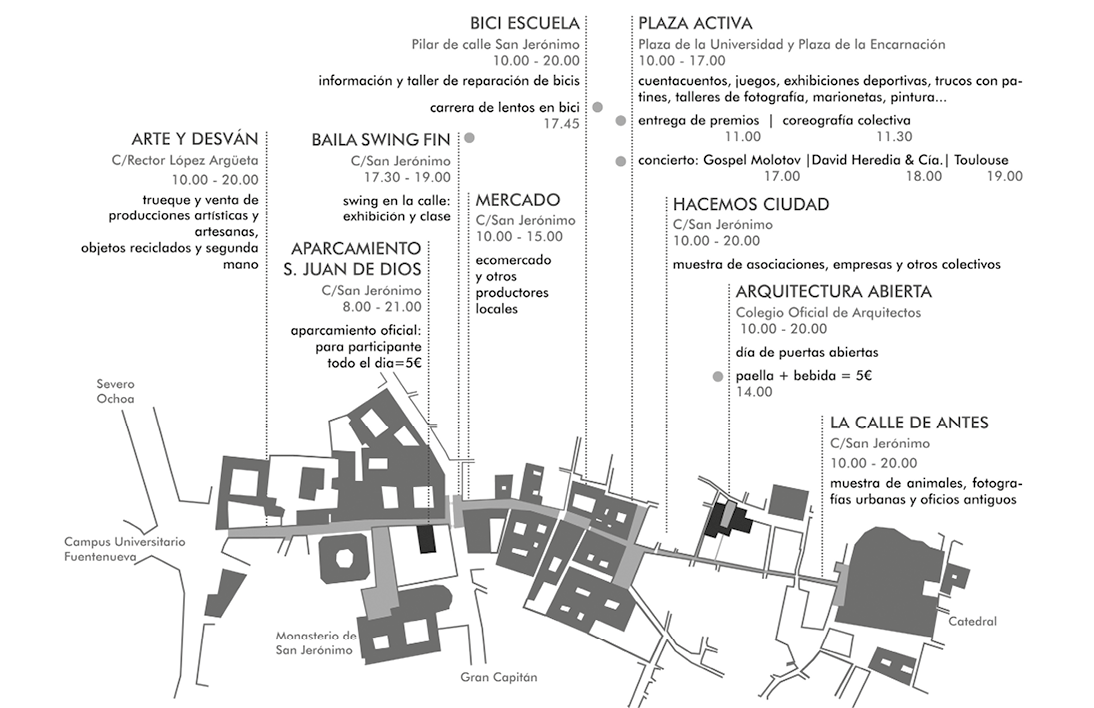 Map of the event "La calle es tuya" (The stret is yours) organised by various groups in Granada during the European Mobility Week. Source: https://caminagranada.com/
Villena Socio-Cultural Activation Festival. Source: http://elfabricantedeespheras.com
Parking Day NYC. Source: https://nyc.streetsblog.org
Le permis de végétaliser (Permission to Plant). City Council of Paris.
DISTRICT SCALE INTERVENTION

SUITABLE TO COMBINE WITH OTHER SOLUTIONS
The purpose is the application of any of the strategies
Indicator
Number of actions
Unit
Number of actions per neighbourhood
Minimum goal
5 per neighborhood / year
Desirable goal
10 per neighborhood / year
Measurement method / Formula
Registration of licenses
A: number of interventions/neighbourhood
All levels of planning regulations should consider the benefit of this interventions and encourage their development.
Private Owners
Associations
Design and planning team
Real estate developers
Administration Technicians
POSSIBLE ACTIONS PROMOTED BY THE ADMINISTRATION
These actions can be launched from the administration or from independent groups. But in the latter case, the administration can provide technical means, technical advice or financing.