TR03 SUPPORT TOOLS
Software tools and calculate templates as support in urban sustainable design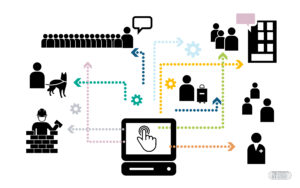 This is an updated list of different non-commercial tools to help designers or stakeholders in urban planning decision-making process.
GENERIC
►http://www.ecourbano.es/tools.asp
This website includes various types of instruments: technical solutions, methodologies, indicators and calculation applications. There are different tools designed to help, both by individuals and collectives, in order to move towards more sustainable scenarios.
WATER CYCLE
► https://www.berlin.de/senuvk/umwelt/landschaftsplanung/bff/en/bff_berechnung.shtml
Evaluation of soil permeability developed by the Department of Environment, Transport and Climate Protection of the City of Berlin.
► https://www.rainproof.nl/toolbox/maatregelen
Amsterdam toolkit for technicians and individuals to make decisions in rain management.
► http://tool.life-aquaenvec.eu/en
Tool to work the eco-efficiency of the urban water cycle.
► https://www.giswater.org/
Free software to help in the whole water cycle management.
► https://www.berlin.de/senuvk/umwelt/landschaftsplanung/bff/en/bff_berechnung.sh
"biotype area factor" (BAF) tool made by Berlín Senate Department for the Environment, Transport and Climate Protection
► https://www.regjeringen.no/globalassets/upload/subnettsteder/framtidens_byer/klimatilpasning/2014/bgf_veileder_byggesakhoveddelen2014.01.28.pdf
Oslo, " BLÅGRØNN FAKTOR (BGF)" (BGF) blue/greenfactor calculator:
► https://www.epa.gov/water-research/green-infrastructure-modeling-toolkit
Green Infrastructure Modeling Toolkit. United States Environmental Protection Agency
SOLUCIONES VERDES
► https://www.miteco.gob.es/es/cambio-climatico/temas/mitigacion-politicas-y-medidas/proyectos-absorcion-co2.aspx
CO2 absorption 'ex ante' tool, referring to tree plantations (forestry) suitable for urban areas.
► http://hdl.handle.net/10803/6124
Vegetation for climate control: Ochoa de la Torre, José Manuel. Universitat Politècnica de Catalunya. Departament de Construccions Arquitectòniques.
► http://www.tdag.org.uk/species-selection-for-green-infrastructure.html
Guide for tree selection in green urban planning. Trees and Design Action Group (TDAG).
ACCESIBILIDAD
► http://civitas.eu/tool-inventory
Online database with more than 100 tools and methods that help local authorities.
► https://tfl.gov.uk/corporate/about-tfl/how-we-work/planning-for-the-future/healthy-streets
"Healthy Streets" is a we toolkit developed by the Greater London Authority. Contains resources to help apply  the"healthy streets" approach. They cover the entire process from the initial analysis, to the implementation and evaluation.
► https://sutp.org/files/contents/documents/resources/F_Reading-Lists/GIZ_SUTP_RL-Tools-for-Sustainable-Urban-Transport_EN.pdf
Specific tools to support the mobility planning by the Deutsche Gesellschaft für Internationale Zusammenarbeit (GIZ) GmbH
► http://www.eltis.org/resources/tools/streetmix
Streetmix is an open-source, interactive tool which can be used to design streets and street networks. It visualises the street design process and can be used by urban planners to design sustainable urban environments. It also allows the public to become involved in the street design process, making it an effective means of public stakeholder engagement. Users can share the street networks they create with others on social media.
Street design tool.
URBANISMO BIOCLIMÁTICO
► https://energyplus.net/weather
Weather data for more than 2100 locations are now available in EnergyPlus weather format — 1042 locations in the USA, 71 locations in Canada, and more than 1000 locations in 100 other countries throughout the world. The weather data are arranged by World Meteorological Organization region and Country.File formats: txt, ddy, epw, stat.
► https://drajmarsh.bitbucket.io/data-view2d.html
► http://www.andrewmarsh.com/software/weather-data-web/
Online tool thats helps to show the climate files data in Suitable for EPW and CSV. It does not propose strategies.
► http://energy-design-tools.aud.ucla.edu/climate-consultant/request-climate-consultant.php
Graphic-based computer program that helps architects, builders, contractor, homeowners, and students understand their local climate. It uses Yearly 8760 hour EPW format climate data for thousands of weather stations around the world. Climate Consultant translates this raw climate data into dozens of meaningful graphic displays.
► http://www.energy.soton.ac.uk/ccworldweathergen/
The climate change world weather file generator (CCWorldWeatherGen) allows you to generate climate change weather files for world-wide locations ready for use in building performance simulation programs. It uses Intergovernmental Panel on Climate Change (IPCC) Third Assessment Report model summary data of the HadCM3 A2 experiment ensemble which is available from the IPCC Data Distribution Centre (IPCC DDC) (1,2).
► http://www.andrewmarsh.com/software/shading-box-web/
This interactive web app lets you move a point of interest in and around a site and see its shading mask update in real-time. When it first starts, the app displays some simple block obstructions that you can interactively manipulate. However, you can also load in your own 3D design models and examine their overshadowing in the same way.
► http://comfort.cbe.berkeley.edu/
Hoyt Tyler, Schiavon Stefano, Piccioli Alberto, Cheung Toby, Moon Dustin, and Steinfeld Kyle, 2017, CBE Thermal Comfort Tool. Center for the Built Environment, University of California Berkeley.
There are different climograms developed in academic settings by teachers and researchers. To get the files it is advisable to contact the developers:
• Climograma de Bienestar Adaptado de Francisco Javier Neila: fjavier.neila@upm.es. Universidad Politécnica de Madrid
• Climograma BAT by Victor Armando Fuentes Freixanet: ffva@azc.uam.mx. Universidad Autónoma Metropolitana de Mexico.
• Bioclimarq de Gómez-Azpeitia, G. (2016): ggomez@ucol.mx. Spreadsheet. Universidad de Colima, México.