AC09 ACCESSIBLE CITY
Plan the city to ensure access while reducing transport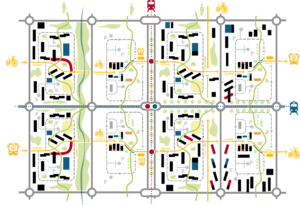 Aim
Ensure that all people have access to the services and activities they need while reducing the need for transport. In addition, access to quality and affordable public transport and safe spaces for walking and cycling is guaranteed.
Why?
The purpose of transport and mobility is to access destinations, activities, services and products. In other words, the goal of all transport is access, not travel itself. By achieving access without the need to travel, by means of more efficient modes, or with shorter journeys, we will succeed in significantly reducing the negative impact of transport.
How?
When it comes to improving the accessibility of a city, there are multiple measures at different levels, some of which are the subject of other solutions in this catalogue. We will focus here on general aspects of planning, but above all on solutions that are more specific, cheaper and achievable in the short term.
In general, city planning should focus on the following five aspects in order to improve access:
• Increasing density
• Increasing the diversity of land use, housing and transport options
• Design the city and its street network in such a way that it promotes the most efficient modes of transport.
• Increase accessibility to jobs or places of interest by reducing travel time or eliminating travel altogether.
• Decrease the distance to public transport.
• Plan public transport based on the recognition of the different needs of women related to their roles, needs and experiences, since, statistically, they are the ones who most frequently use this type of transport. Likewise, the design of infrastructures and vehicles must be done with a gender perspective.
Most of these aspects are dealt with in other solutions, but here the emphasis will be on reducing the need for transport. The main goal must be to ensure that people have access to services and places of interest without having to travel. This can be achieved through relatively inexpensive measures that are easy to implement in the short term.
Because most forced trips in a city are related to work, studies and sporting or leisure activities, this is where efforts must be concentrated. Any measure that reduces this type of regular travel will have a major impact. To this end, the following measures should be considered, with administrations being responsible for leading by example:
• Promotion of telecommuting. Firstly, administrations should lead by example, offering the possibility of some work being carried out from home or from nearby places. In addition, public centres should be opened in which temporary cubicles can be reserved for those who do not have infrastructure at home. Each neighbourhood should be equipped with this type of facilities.
• Schools and, above all, kindergartens should be located in densely populated areas and not on the periphery of cities. Regulations should require that every neighbourhood or development, as well as large workplaces from a number of workers, have a nursery.
• Each neighbourhood should have sports facilities, libraries and other public facilities, so as to reduce the number of people travelling to them from distant areas.
• Require large work centres (>100 workers) to carry out a mobility study generated prior to obtaining a licence. This study will evaluate the impact of the work centre on the different transport networks in the city and propose measures to reduce it. In addition, it should study the mobility patterns of employees and propose measures to reduce trips or make them more efficient.
• Encourage the implementation of company mobility plans or personal mobility plans through exemptions in taxes or fees to companies that take these measures.
Curitiba (Brazil). Densified and transit oriented city. Source: Google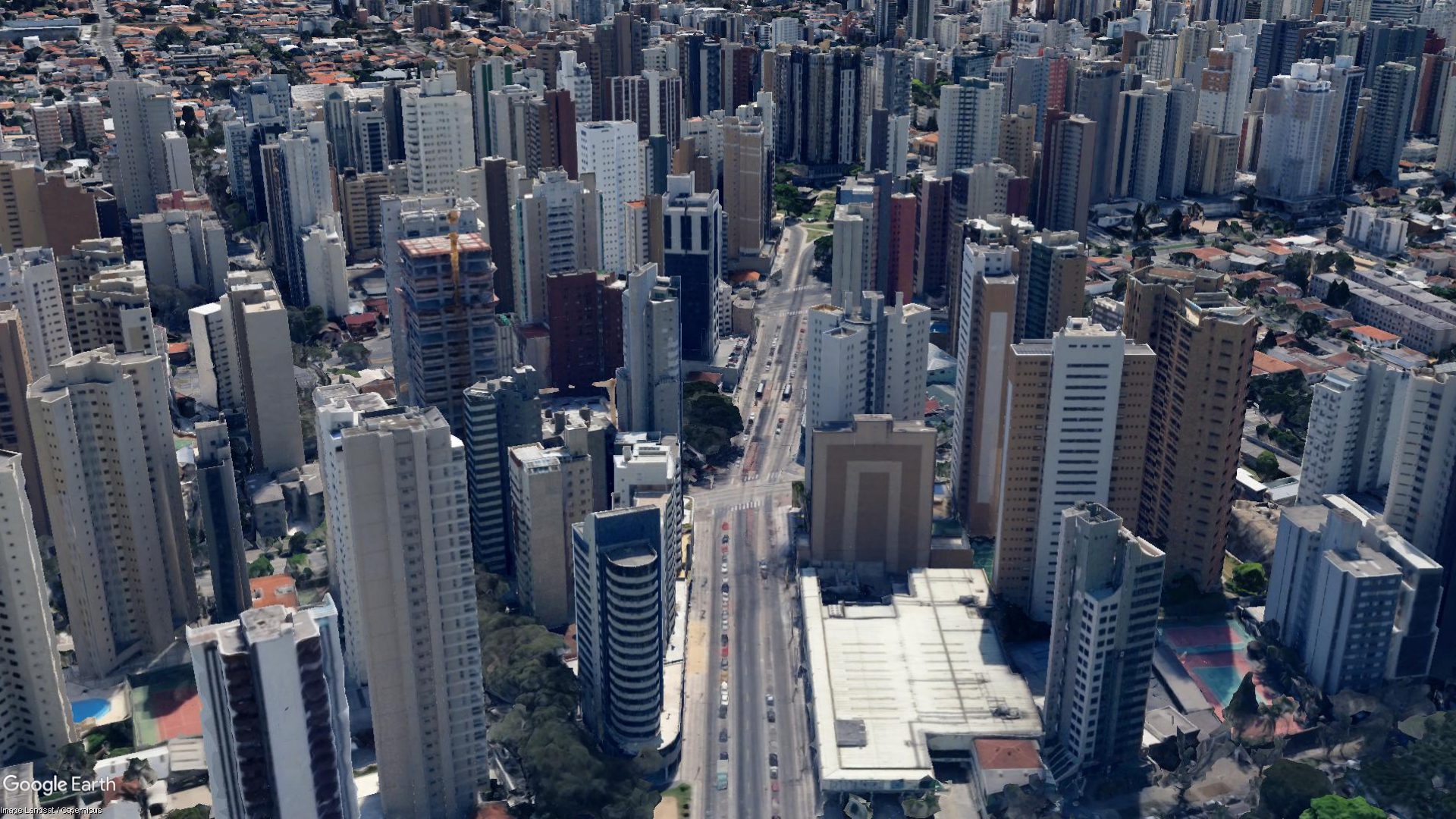 No car community in Vauban. Source: Google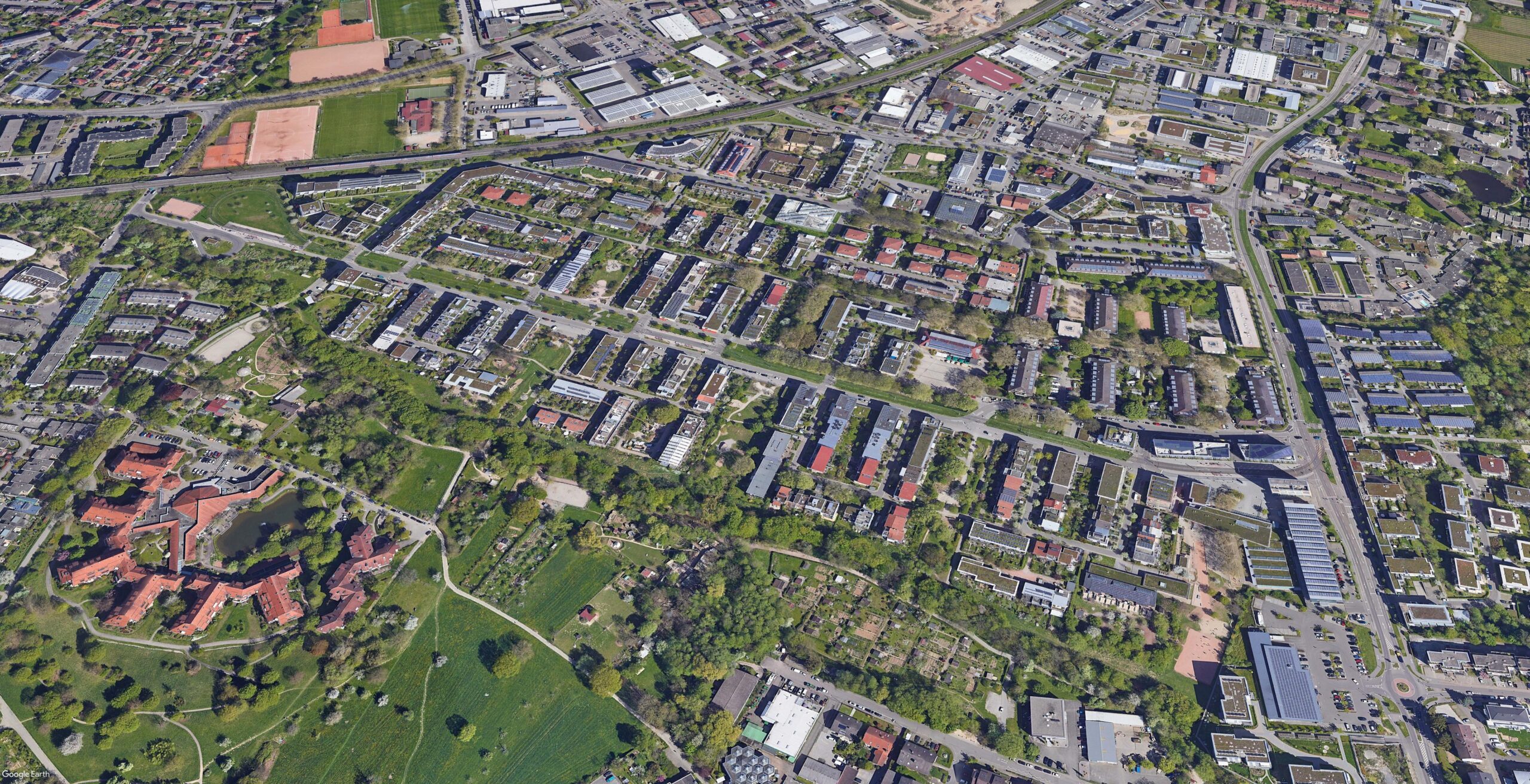 Different mobility patterns when the city is decentralized

Different mobility patterns when the city is decentralized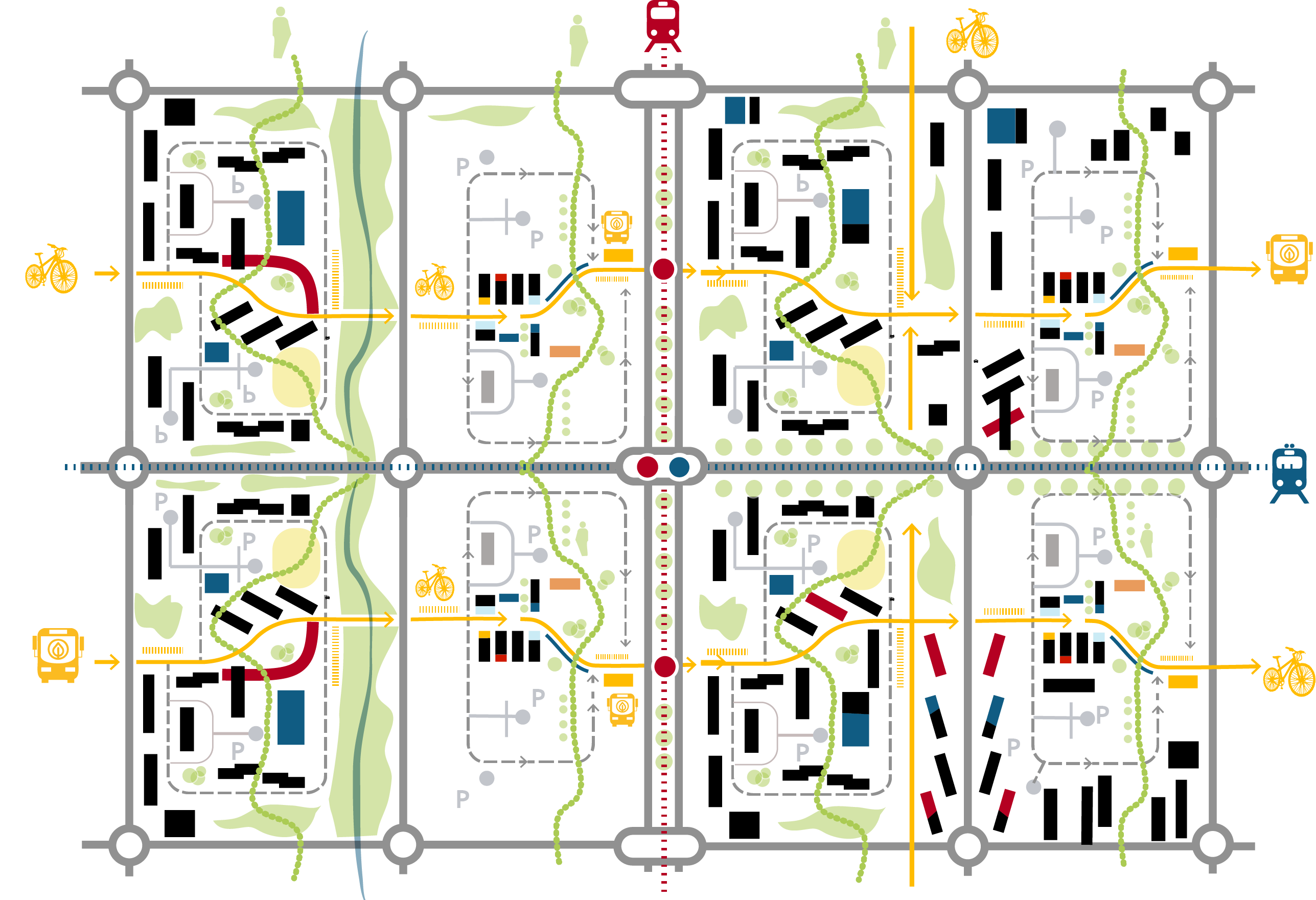 SUITABLE FOR COMBINING WITH OTHER SOLUTIONS
Indicator
Main: CO2 reduction by switching from motor vehicles to more sustainable modes
Secondary: % of reduction in km travelled in motor vehicles
Unit
g CO2
%
Minimum Goal
20 % of reduction of trips in MV
Desirable Goal
40 % of reduction of trips in MV
Measure method / Formula
Anual Mobility Survey
∆g CO2=A x [B – C] x D
A: % of reduction in km travelled in motor vehicle
B: MV CO2 Emission Factor (g CO2/km)
C: Non polluting vehicle CO2 Emission Factor (g CO2/km)
D: Total km travelled
General Planning
Development Planning
Local Officials
Planning and design team
POSIBLE ACTIONS DEVELOPED BY THE ADMINISTRATION:
∙ Lead by example by developing a Workplace Mobility Plan in their work centres and implementing the measures described here.
∙ Fund or reduce fees for work centres that implement some of these measures.
WHAT SHOULD BE CONSIDERED FOR ITS IMPLEMENTATION?
∙ If administrations force companies to take measures of this kind, they must start by leading by example.
∙ The implementation of most of the measures described here depends upon the previous implementation of others (Hierarchization, TOD, creation of a cycling and pedestrian network, etc.).