AC02 TRANSIT ORIENTED DEVELOPMENT
Planning a city integrated with public transport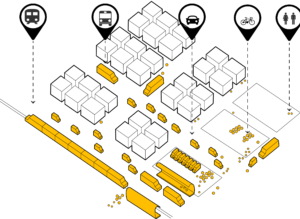 Aim
To plan the city in such a way that the inhabitants can have comfortable and safe access to activities, buildings and public spaces through pedestrian and cycle ways. To this end, pedestrian and cyclist networks must be integrated with a quality and cheap public transport service that avoids dependence on the car.
Why?
Most of the world's cities continue to grow and be built according to principles and strategies contrary to TOD. Cities continue to be centrifuged, new roads and streets built, resulting in more impervious surface area, more congestion and more pollution, but also more segregation and social isolation, increasing inequality and inequity.
It is therefore urgent to consider an inclusive TOD that integrates not only land use and transport, but also people, activities and opportunities.
How?
Although TOD has been mostly implemented in developing countries and the Americas, its goals are equally valid for developing cities everywhere. It is important to bear in mind that this type of planning should not only consider the situation of public transport stations, but should address planning in an integrated manner.
Thus, the following objectives should be pursued:
► WALK: Develop neighbourhoods that promote walking through a safe, comprehensive and accessible pedestrian network for all.
► Cycle: Prioritise non-motorised mobility networks through comprehensive and safe cycle routes and secure bicycle parking areas.
► CONNECT: Create street and dense route networks where pedestrian and cycle routes are shorter than those dedicated to cars.
► TRANSPORT: Quality public transport must be accessible from the entire development on foot (< 500 m).
► MIX: Plan neighborhoods where inhabitants are from different demographics and income ranges. There must be services within a short walking distance from where people live and work, and public space must be active most of the day.
► DENSIFY: Optimize residential and labor density to improve the efficiency of public transportation.
► COMPACT: Create developments with short travel times, planning them within or adjacent to existing ones.
► CHANGE: Manage the use of streets and parking, modifying the use of the space dedicated to the car in order to dedicate it to other, more sustainable uses.
Most of these goals are common to all the solutions included in this catalogue but, like road hierarchy, TOD is a prerequisite to any of the others, as it creates a scenario that facilitates the success of those measures.
Integrated transport network of Curitiba
Integrated transport network of Curitiba and the densification around it. Source: Google
SUITABLE FOR COMBINING WITH OTHER SOLUTIONS
Strategic Solution
Works as a base to apply the rest of the solutions on accessibility of the catalogue.
General Planning
Development Planning
Urbanization Detailed Design
Local Officials
State/regional government officials
Planning and design team
Posible ACTIONS DEVELOPED BY THE ADMINISTRATION:
∙ Design of a coherent and efficient public transport network
∙ Attractive pricing policies. For example: free for minors and students, or completely free for everyone.
WHAT SHOULD BE CONSIDERED FOR ITS IMPLEMENTATION?
∙ Intermodality with other sustainable modes to feed public transport lines
∙ An essential preliminary step is the road categorization