EC05 SHARED CARS / CARPOOLING
Public facilities to encourage the use of shared, rented or high-occupancy cars
Aim
Favour the efficient use of the different modes of transport rather than the ownership. Reduce the carbon footprint of car use in cities.
Why?
The reasons for favouring carpooling or rental systems are clearly shown in the graph accompanying this text. The annual average cost of using a car for a European household is around 9000 euros per year, including congestion costs and externalities. Around 25% of greenhouse gas emissions in Europe are due to transport. Around 50% of the surface area of public space in cities is dedicated to cars, but at peak traffic levels only 10% is occupied. The cost of congestion can reach 2% of GDP in large cities.
And all of that to use a mode of transport that is stationary 92% of the time, whose weight is about 12 times the weight of the passengers it transports and whose engines do not convert more than 20% of the fuel into movement. This means that only 2% of the energy consumption is actually used to move people.
As you can see, the current use of automobiles in cities is far from efficient.
How?
Bearing in mind the main objective of this measure, which is the optimization of the use of the car in the city, and always after favoring the use of other more sustainable modes, there are several ways in which you can act.
► Car Pooling or sharing
Multiple platforms are already in place that link users with the intention of increasing vehicle occupancy, especially on city-to-city journeys. This has been done informally since time immemorial, and a useful approach is to identify meeting areas in order to be able to take actions that favour intermodality in sustainable modes, seeking to prevent first and last mile journeys being made by car. Some measures that can be taken from the municipalities are:
– Install comfortable and safe public transport stops in these areas, including some other service such as lockers, wifi, vending, etc, which makes waiting more comfortable.
– Install bike racks so as to encourage the use of bicycles to reach this area, and therefore avoid travel by car first or last mile.
– Develop applications that allow users to contact each other.
– Promote corporate and personal mobility plans in large workplaces to optimize employee travel through this type of solutions.
► Electric rental vehicles
Although electric cars are a less sustainable solution than bicycles or public transport, it is true that they are more efficient and less polluting than combustion cars, so their use should be encouraged.
This measure would consist of requiring buildings or neighbourhoods to be equipped with areas for recharging electric vehicles that could be used on demand. This could work for both private and rental vehicles. The latter could be done in the same way as rental bicycles, either directly by the municipality or by private companies.
This solution complements perfectly the integral management of public transport. The integration of the different modes of transport makes it possible to choose the most efficient route on each trip.
Belmont Park-and-ride en Durham
Safe lockers for bicycles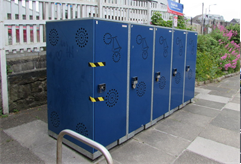 SUITABLE FOR COMBINING WITH OTHER SOLUTIONS
Indicator
Main: CO2 reduction by reducing private vehicle trips
Secondary: % of trips from PV to other sustainable modes
Unit
(I1) g CO2/year
(I2) %
Minimum goal
(I2) 5 % of reduction in trips by VP
Desirable goal
(I2) 10 % of reduction in trips by VP
Measure method / Formula
Mobility survey
∆g CO2=A x B x C
A: % of reduction in trips by VP
B: CO2 emission factor of a private vehicle (g CO2/km)
C: Total number of km travelled
General Planning
Development Planning
Urbanization Detailed Design
Local Government Technicians
Planning and design team
Neighbourhood communities
Associations and cooperatives
Developers
Owners
POSIBLE ACTIONS DEVELOPED BY THE ADMINISTRATION:
Encouraging carpooling among its workers