AC10 HEALTHY STREETS WITHIN SUPERBLOCKS
Streets designed for pedestrians, cyclists and public transport users
Aim
The goal of this measure is twofold:
• Getting city dwellers to use the car less and to walk, ride a bicycle or use public transport instead.
• Create a safer, healthier, fairer, more inclusive and attractive public space.
Why?
For a good part of the 20th century, cities have been planned and built with the car at the centre of all decisions. This has led to the creation of cities where their inhabitants are almost completely dependent on the automobile.
As a result, cities have become unequal, segregated, hostile, dangerous and unhealthy places.
In addition, the massive use of private vehicles contributes to a great extent to climate change, as transport is one of the main sources of CO2 emissions.
How?
Removing the through traffic inside the Superblocks, being that interior space mainly pedestrian, coexisting with resident and service vehicles. The vehicles' speed adapts to the pedestrian's (10 km/h).
This measure is completely conditioned to the prior hierarchization of the city streets. Without such a hierarchy it is impossible to achieve.
There are many manuals, guides and recommendations that present solutions to achieve a public space where the automobile loses prominence (some of them are included in the bibliography section). Although each city has its own particularities, the basic premise in all of them must be to put people, their safety and health at the centre of all decisions. Once we start from that premise, there are multiple solutions to achieve a safer, healthier, fairer, more inclusive and attractive public space.
Most of the measures proposed in this catalogue for a street could be included in this solution, as the whole catalogue is aimed at achieving the same goals. When selecting measures, it must be ensured that the result is a public space in which the following conditions are met: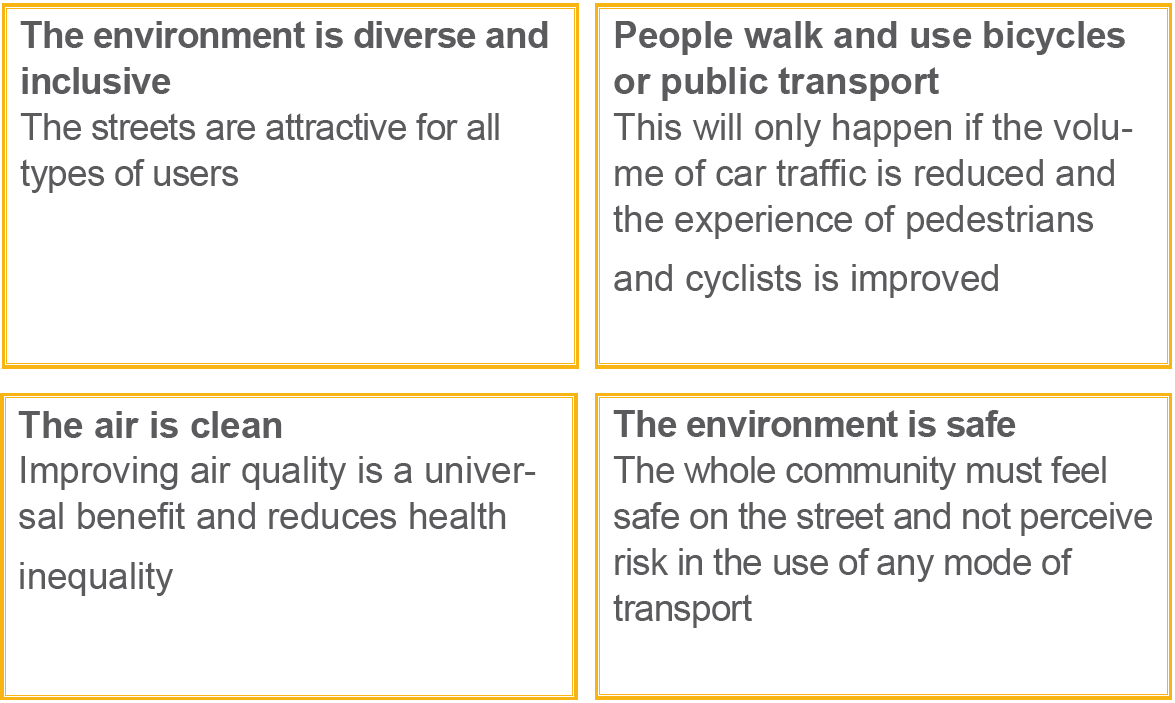 If we think of specific measures to reduce traffic and its speed on those streets, there are a number of measures. Some of them could be:
• One way only streets to avoid through traffic
• Contraflow cycle paths
• Creation of chicanes
• Continuity of the sidewalks on the carriageways
• Elevated Intersections
• Speed breakers
• Reduction in roadway width
• Narrowing streets
• Use of planters or tree pit to create a feeling of narrowness
• Introduce linear green zones on the roadway
Source: Ciudades más seguras mediante el diseño (WRI)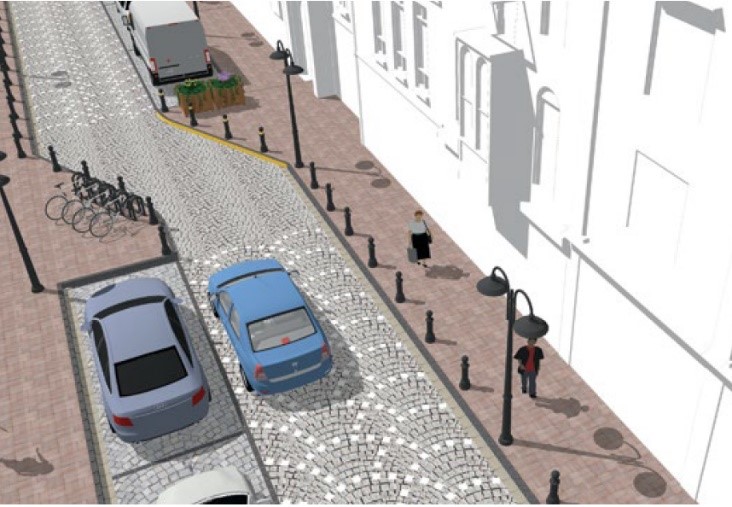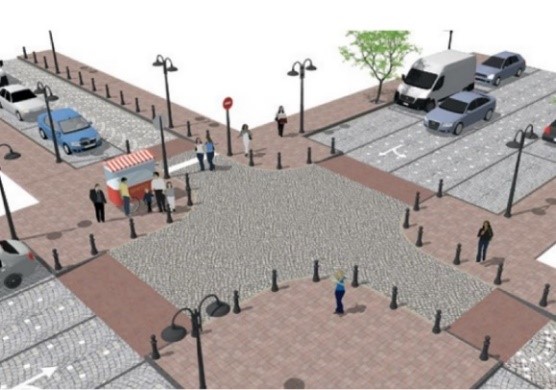 Pedestrianisation of the Ronda da Muralla in Lugo, replacing a road with two lanes and parking for a pedestrian and green space.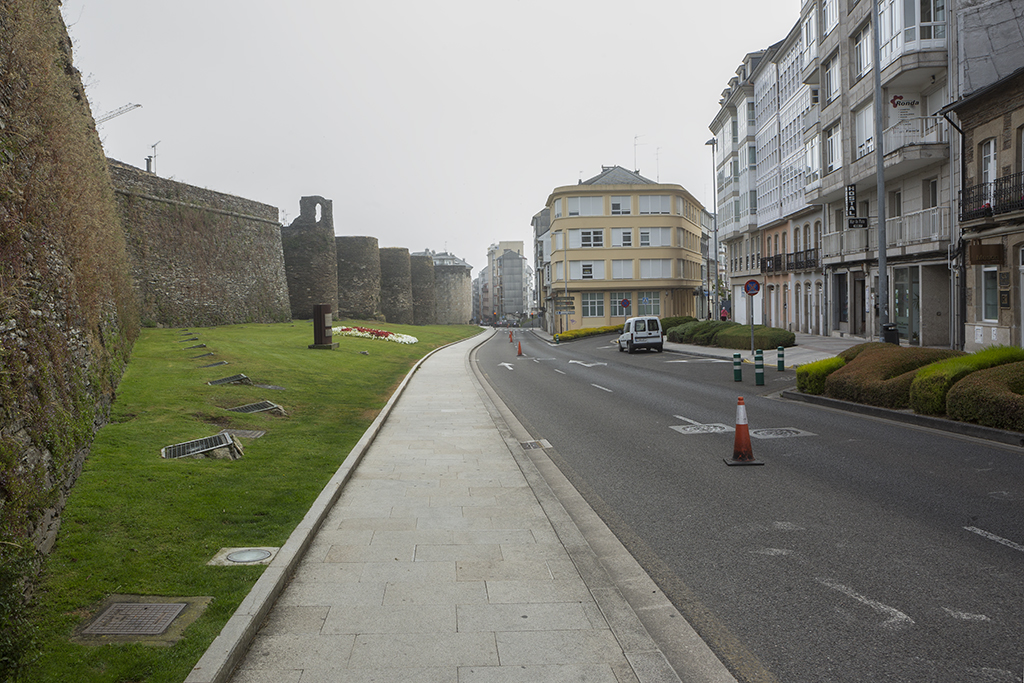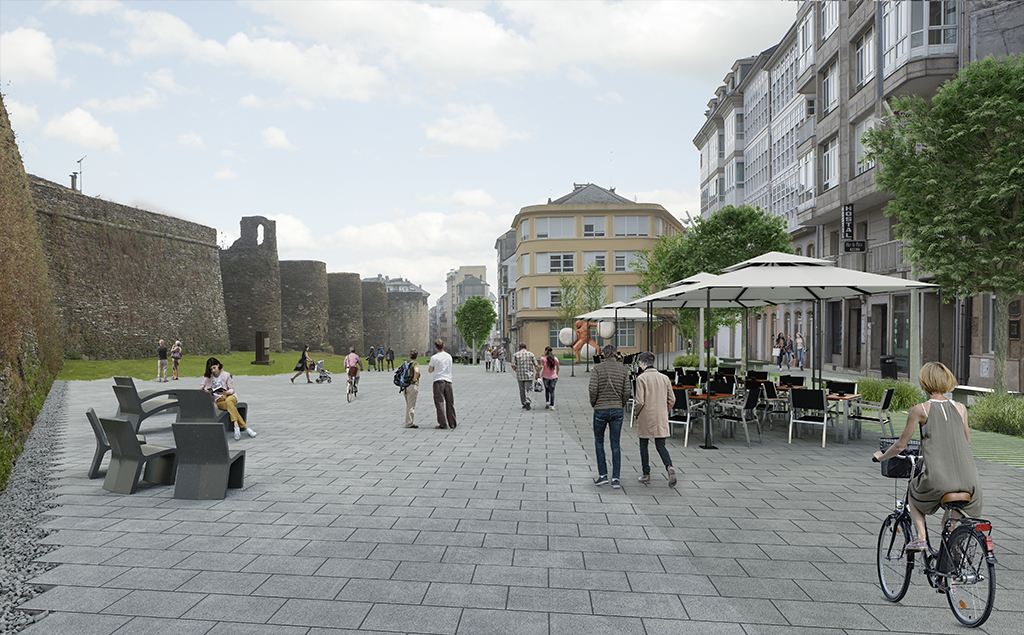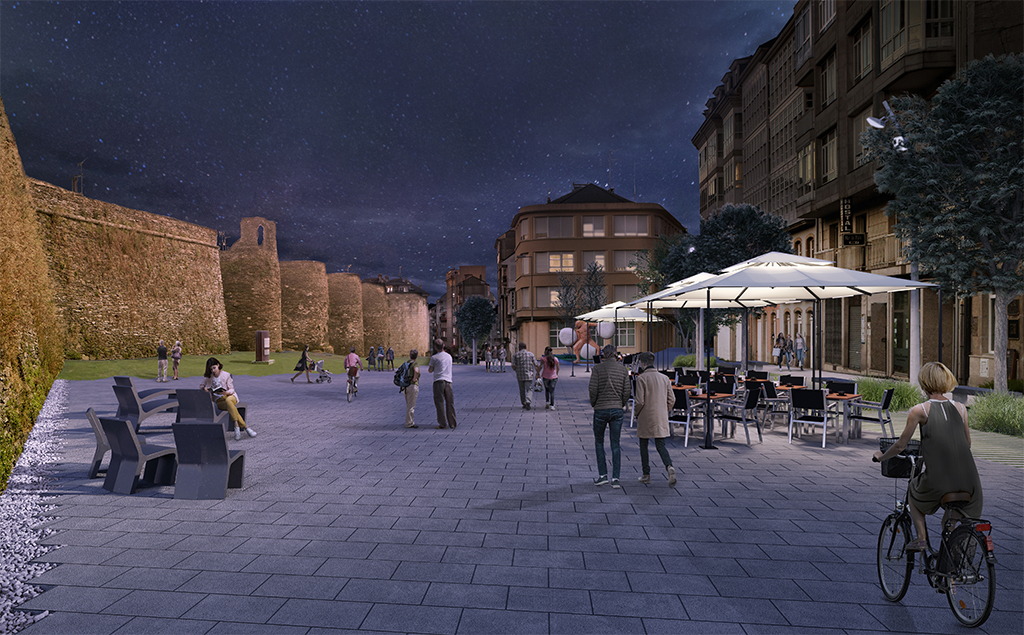 STREET SCALE INTERVENTION

SUITABLE FOR COMBINING WITH OTHER SOLUTIONS
Indicator
Main: CO2 emissions reduction
Secondary: % of reduction in km travelled in PV within superblocks
Unit
g CO2
%
Minimum Goal
50 % of reduction of PV trips within superblocks
Desirable Goal
70 % of reduction of PV trips within superblocks
Measure method / Formula
Anual Mobility Survey
∆g CO2=A x B x C
A: % of reduction of PV trips
B: PV CO2 Emission Factor (g CO2/km)
C: Total km travelled
Development Planning
Urbanization Detailed Design
Construction Detailed Design
Técnicos da Administración Local
Equipo de deseño e planificación