EV06 GREEN SLOPES AND RETAINING WALLS
Incorporation of plant material on slopes and retaining walls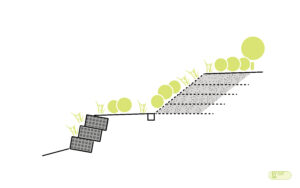 Aim
To incorporate vegetation into earth-retaining structures that stabilise slopes by offering a viable alternative to ordinary 'hard' construction solutions (walls, sheet poling, wire mesh…) depending on soil availability.
Why?
Earthmoving is a basic work, almost indispensable in any intervention in the urban fabric. However, topographical modifications often require specific solutions for soil stabilisation. This situation becomes an opportunity for the introduction of living material in the design and execution process, even assuming engineering functions. The active presence of vegetation in stabilisation techniques acts on different points:
► Urban Landscape: The option of a living material such as vegetation – as opposed to other inert materials – enables the integration of interventions and the introduction of elements from the surrounding landscape into the urban fabric.
►Ecological connectivity: The continuity of the vegetal cover in the urban fabric is the main way for ecological connection in urban complexes.
►Water cycle: Vegetation on a slope reduces runoff speed and intervenes in processes such as rainwater interception, root flow, evapotranspiration and infiltration.
►Mechanical: Vegetation increases the strength and competence of the soil in which it is planted, contributing to its stability, it also retains soil particles minimising the effects of erosion.
► Climate Change adaptation and mitigation: The vegetal cover produces the capture of CO2 through the photosynthetic process.
►Economy: Soil stabilisation through living materials or combined with other inert materials is less costly than solutions based solely on inert materials, although this choice may be conditioned by the availability of space.
If the formation of a planted slope (Green Slope) is impossible, thegabion wall becomes a good alternative, as this stabilisation solution acts on these points:
► Landscape: According to the Guide for the characterization and landscape integration of walls (Galicia Regional Government), the gabion technique becomes one of the best contemporary alternatives to traditional dry stone walls, as it enables the incorporation of local stone materials.
►Ecological Connectivity: This modern dry-stone wall facilitates the refuge of small insects and amphibians, as well as the growth of fungi, mosses and other vegetable species planted or spontaneous, contributing to the improvement of the biodiversity.
►Water Cycle: They offer excellent drainage conditions and durability; they are even used in combination in specific infiltration solutions. They can intercept rainwater, just like dry stone walls.
►Mechanical: They are gravity walls, and because of their good environmental adaptation and drainage they are one of the most used retaining systems, especially in terraced solutions. They do not require foundations and are flexible, able to withstand significant movements from undercutting or landslippage.
► Climate Change adaptation and mitigation: Its use is based on the reuse of by-products from rock extraction. As a GUD solution, it will require the use of local materials.
► Economy: These types of walls are easy to design and execute, they do not require specialized labor since their assembly is fast. According to the aforementioned Guide, this is a low-cost technique.
How?
Biotechnical Stabilisation (BS) and Soil Bioengineering (SB) techniques will be used for the creation of Green Slopes, as well as Gabion Walls with or without vegetation.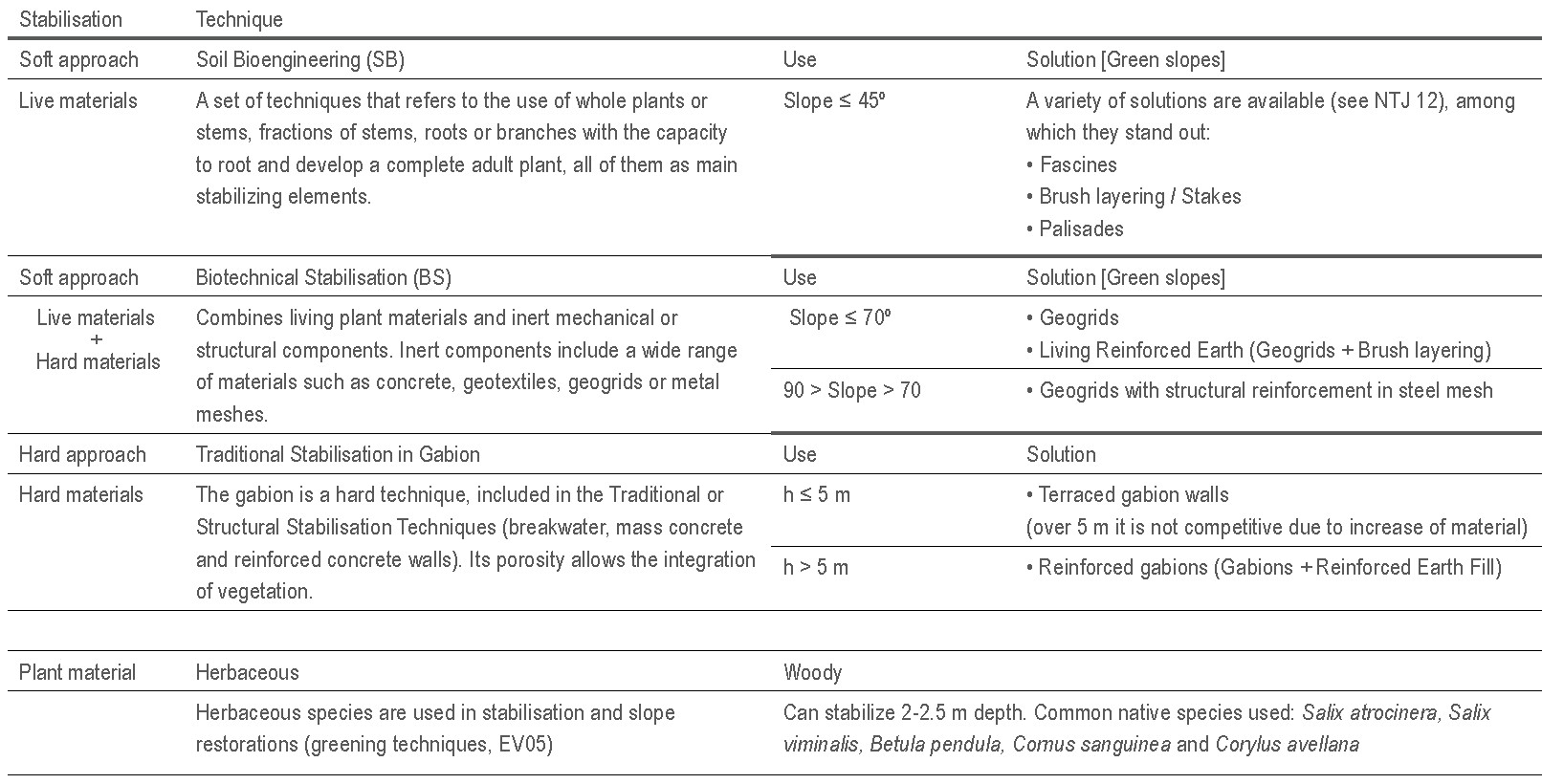 street SCALE INTERVENTION

SUITABLE TO BE COMBINED WITH OTHER SOLUTIONS
Indicator
(I1) CO2 Capture (CaCO2)
Unit
(I1) kg CO2 / year
Minimum goal
(I1) That corresponding to an exclusively herbaceous vegetation
cover (0.05 kg CO2/m²·year)
Desirable goal
(I1) That corresponding to a cover with predominance of woody
plants (1 kg CO2/m²·year)
Measurement method / Formula
(I1) CaCO2 (T CO2·year) = [A x B]
A: m² vegetated sloped surface and berm
B: average capture value
(1 kg CO2/m²·year for woody plants; 0,05 kg CO2/m²·year for
herbaceous plants)
Development projects and public works
Public space renovation plans
Local government technicians
Regional/General administration technicians
Water and natural resource managers
POSIBLE ACTIONS DEVELOPED BY THE ADMINISTRATION:
• It is necessary to promote the availability of specific plant material for the use of bioengineering techniques.
• Creation of a local waste management system for stone materials and concrete to be reused as gabion filler.
What should we consider for its implementation?
• Soil and water conservation should be considered as a starting point. In earthworks, the destruction of soils and vegetation should be minimised, as well as the diversion of watercourses.
• Stabilisation solutions must be previously justified and calculated.
• For steep slopes it is necessary to design berms for tree planting.
On very steep slopes it is advisable to plant shrubs to reduce wind force.
• Living plant material should preferably be collected from native or naturalised plants near the area in which the action is to be taken (or reasonably near).
• It is necessary to take care of the provision of soil in the external face of the slope (compaction and improvement, if necessary).
• It is necessary to carry out a specific control of the postimplantation phase.

STABILISATION SOLUTIONS FOR GREEN SLOPES AND RETAINING WALLS