EV09 GREEN ROOFS
Vegetation with a growing medium, planted in building roofs
Aim
Increase the thermal performance of the building roof with a green layer able to counteract polluting due to its CO2 retention capacity.
Why?
This strategy allows rainwater retention, improve its quality and allows to reuse it in gray reuse systems. Require minimal maintenance and low water requirements and affects in different parameters that deal with sustainable criteria:
► Biodiversity: Green roofs create natural urban habitat. Even in highrise urban settings green roofs can attract beneficial insects, birds, bees and butterflies. Rooftop greenery complements wild areas by providing stepping stones for songbirds, migratory birds and other wildlife facing shortages of natural habitat.
► Energy efficiency: Improves the thermal and acoustic insulation of the building, and leads to cost savings in heating or cooling systems. In winter, for a 0°C air temperature, the surface layer of the roof with conventional materials reaches 0.2°C while laying a green roof system stands to 4.7°C. In summer, for 18.2°C air temperature, conventional surface
can increase to 32°C as green roof can protect and reduce it to 17.1°C. (A green roof policy guidance paper for Dublin, 2008)
► Water management: The green roofs surfaces can be completed with a treatment process system that can be also applied for the grey water from the building, allowing the storage and recycling for new uses, closing the water cycle.
► Rainwater retention: retention affects at least 40% of water, delaying draining depending on the slope and thickness of the substrate. As an example, a 12cm layer delays up to 12 hours the evacuation of the stored water during a rain event and continues slowing down the process for about 21 hours.
► Social effects: The green roofs can be used in agricultural production and, therefore, bring community activities and relations among the inhabitants within the buildings and contribute to the approach of the productive processes to the citizens.
► Compost: Green roofs developments raise the city areas suitable for compost use when a cycled system is operating in the inmediate surroundings of the buildings.
► Climate change mitigation: Green roof surfaces help mitigate CO2 emissions by fixing this gas through the photosynthetic process. The average catch is 50g CO2 / m2 / year depending on the species and substrate thickness.
►Air quality. The green roofs contribute to the mitigation of the heat island phenomenon due to the plants capacity as an efficient temperature buffer.
How?
There ared types of green roofs systems:
– Intensive: parks and gardens including Urban Agriculture.
– Semi-intensive: garden green roofs.
– Extensive: natural low maintenance green roofs
– Blue-green roofs: that combing green roof and blue roof technologies to maximise water storage.
– Biosolar green roofs: where solar energy and green roofs are combined to provide renewable energy and deliver biodiversity.
The support features leads to the species that can be used: from small species such as Sedum, in the extensive systems, with a substrate thickness up to 10 cm, to bushes, in semi-intensive coverings of thicknesses over 10 cm, and even larger species such as trees and shrubs in the intensive cases. Under the substrate there's a draining/retention layer, which maintains a certain degree of humidity.
In either cases, anti-root protection should be used. In conventional solutions, any kind of insulation can be used with no more limitation than compressive resistance higher than 2 Kp / cm². In the inverted roof solutions, in which the insulation is located above the waterproof layer, the thermal insulation to be used must have a low absorption of water, so the indicated materials are extruded polystyrene (XPS) and cellular glass (CG).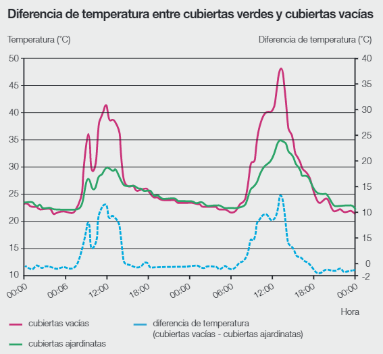 Thermal effect of the green roof on the building envelope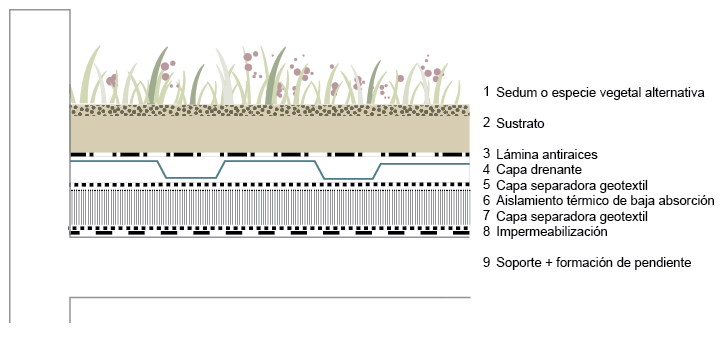 Extensive green roof with isolation layer in inverted situation.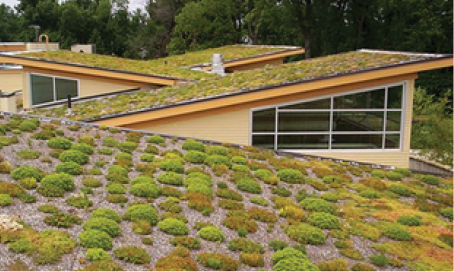 Walter Reed Community Center. Arlington.

Vendée Historial, les Lucs.

BUILDING SCALE INTERVENTION
SUITABLE TO BE COMBINED WITH OTHER SOLUTIONS
Indicator
(I1) CO2 Capture (CaCO2)
(I2) % of green roofs
Unit
(I1) g CO2/year
(I2) %
Minimum goal
(I1) 5 g CO2/m² of roof
(I2) 10% of roof
Desirable goal
(I1) 15 g CO2/m² of roof
(I2) 30% of roof
Measure method / Formula
Δg CO2 = A x B x C
A: % green roof surface
B: total roof in the area involved
C: Capture capacity CO2/m2 (depends on the plant species)
To consider the roof as effective, the minimum value for the caputure
capacity should be 20g CO2 / m2 of roof / year
Development plan
Building construction project
Design team
Administration technicians
Developers
Owners
POSIBLE ACTIONS DEVELOPED BY THE ADMINISTRATION
• Gather a roof index suitable for this strategy through direct observation or geographic analysis on available cartography.
• Social and / or economic bonuses to promote this solution.
• Rewriting of the building regulations to allow this kind of roofs.
What should we consider for its implementation?
The building technical conditions:
• The building typology, property issues or regulations conditions in terms of heritage or security.
Plants characteristics:
• Climate conditions. Consider local species as first option.
• Fertilization and irrigation maintenance.