AG04 COMPACT WWTP
Biological WWTP in single-family homes without connection to the sewerage network
Aim
Prevent the discharge of domestic wastewater into the subsoil or natural streams by installing biological treatment plants for those dwellings not connected to sewerage or as a solution of domestic wastewater treatment for reuse.
Why?
Untreated wastewater poses a risk to public health and the environment since it contains bacteria/viruses that bring excess nutrients to freshwater bodies and the sea and can collapse the environment through eutrophication. European environmental legislation obliges wastewater treatment in Directive 91/271/CE of 21 May, and stresses the need for it in the Water Framework Directive (WFD), where the main objectives are defined as the protection of the environment and the improvement of aquatic ecosystems, the pollution decrease and the sustainable use of water.
Its main benefits are:
►Improvement in the quality of water bodies, preventing pollution of surface water and groundwater.
►Increase in available water resources by reducing the demand for the supply of drinking water for non-consumptive uses.
How?
Although the different brands have patented their own purification system, they share a common technological base: biological purification, based on sedimentation and prior filtration, followed by treatment in stages based on natural purification, in anaerobic media, from microorganisms and aquatic plants that digest the pollutants in a small tank.
Some of the most common types are:
– Biological filter
– Total Oxidation
– Bio-discs
– Aerated bio-filtration
Once the water has been purified, it can be combined with various sustainable drainage systems for storage, reuse or infiltration into the ground.
►SOME REFERENCE DATA:
• Equivalent inhabitants: 1 – 8 HE
• Average daily load, [kg BOD5/day]: 0.4-0.8 max
• Daily water flow: 0.9 – 1.50 m³/day
• Maintenance: 1-2 times/year
• Depuration efficiency from 80 to 95% in BOD5,COD,SS, NH4-
N and above 95% in Ntotal, Ptotal.
ECODENA model, combined with Fat Separator and based on phytodepuration using algae, https://ecodena.com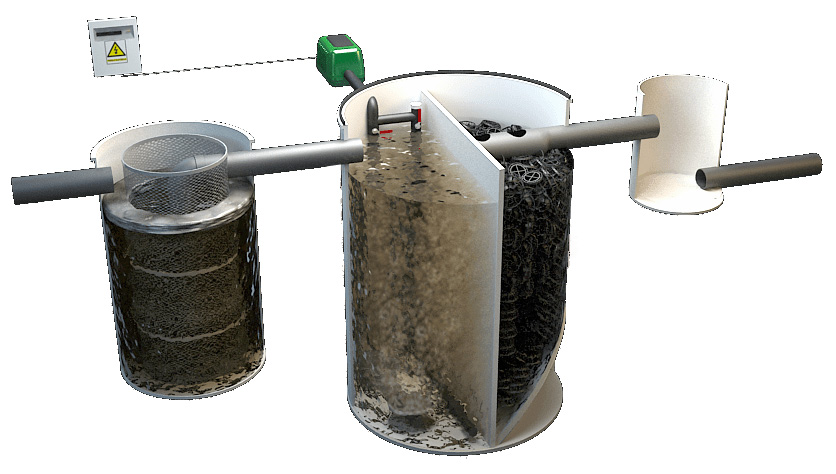 Diagram of a biological edar installation in dwellings not connected to the sewerage network or for reuse.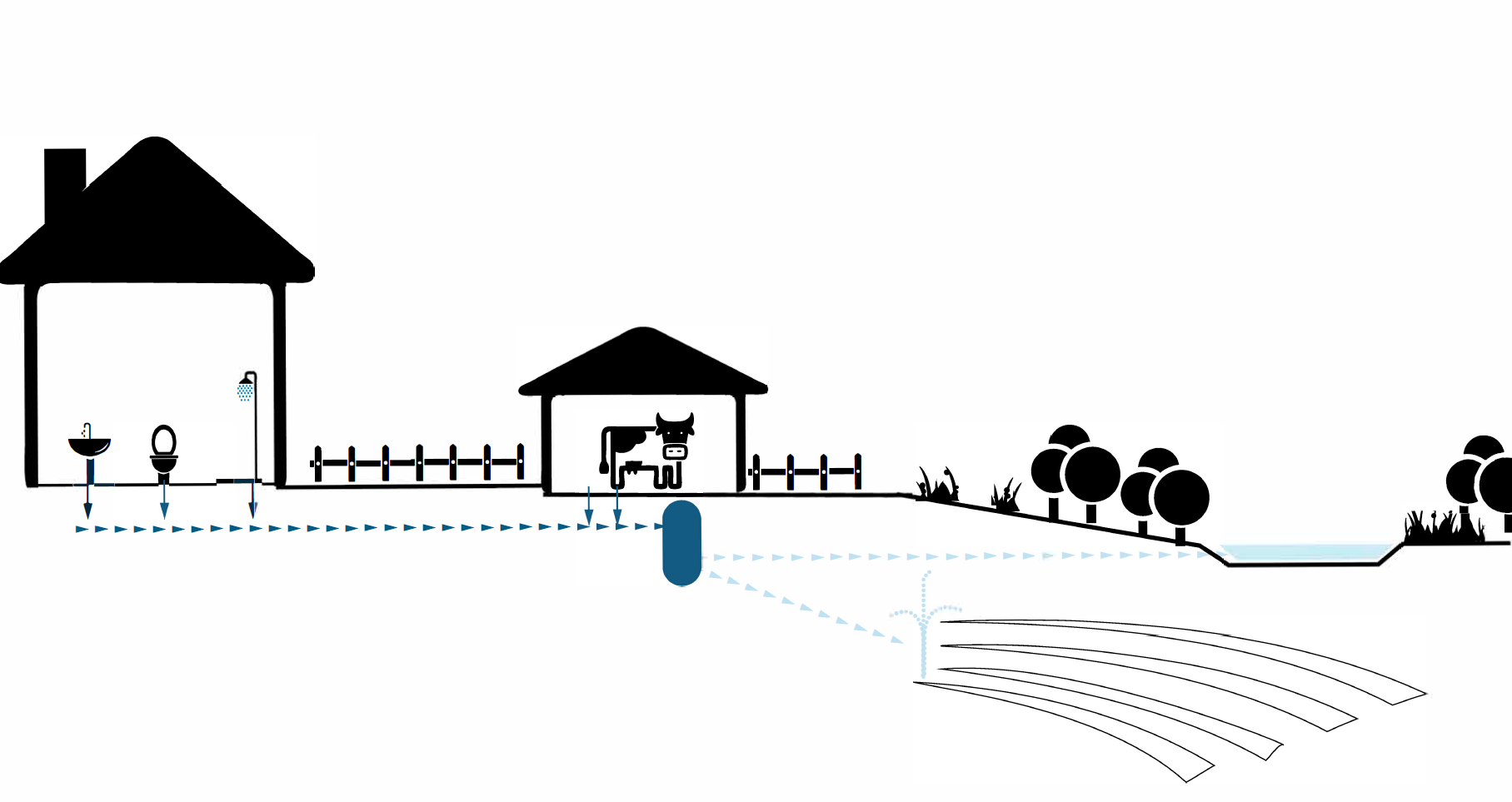 SBS® system, based on biological filters, installed in CENTA's R+D+i Centre. Source: http://www.tradesur.es/edar-compactas-viviendas-tratamiento-aguas-residuales-urbanas.html

Certified biological sewage treatment plant for a house of up to 6 equivalent inhabitants. Source: http://bioviana.com/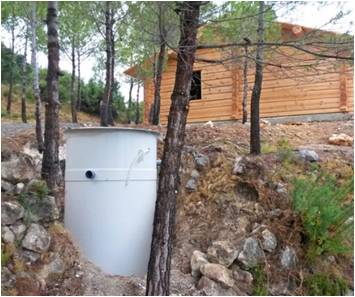 SIDAR model, based on total oxidation system: https://tienda.sidar.es/
Building scale intervention
SUITABLE FOR COMBINING WITH OTHER SOLUTIONS
Indicator
Reduction of energy consumption per m3 that does not go to the WWTP (ΔCE)
Second indicator
Quality of surface and groundwater water
Unit
(I1) m3 of treated water per year -> ΔCE
(I2) regulation indicators
Minimum goal
(I1) 100% treated wastewater
(I2) Compliance with the water quality required by the regulations
Desirable goal
(I1) 100% treated wastewater
(I2) Zero discharge of polluted water into the environment
Measure method / Formula
(I1) ΔCE = [A x B]
A: m3 of treated water
B: Energy consumption in MWh per m3 treated at the WWTP
Private Owner
Neighbourhood associations
Possible actions promoted by the administration
– Analysis of the water quality of the rivers (upstream and downstream of the municipal district)
– Localization of illegal discharges
What should we consider for its implementation?
– The number of inhabitants of the dwelling
– Applicable environmental regulations
– Daily flows and their load