AG10 COMMUNITY WWTS
Integration of rainwater retention and
purification elements in community areas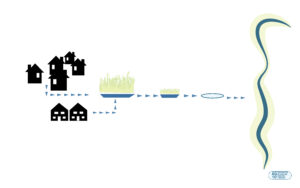 Aim
Include surfaces and elements able to infiltrate rainwater into the terrain both in public or community areas in new or renovation projects.
Why?
– They reduce the risk of flooding by reducing the volumes of runoff.
– Increase groundwater resources through infiltration, and improve their quality, avoiding contamination of aquifers.
– They help to recover, increase or create ecosystems and habitats, favouring biodiversity.
– Improve the urban landscape, increasing the value of the areas where they are inserted.
How?
01 BIOLOGICAL TREATMENTS (PHYTODEPURATION)
Green filters or artificial wetlands
These are natural purification systems for both runoff water and the drainage of small residential areas or camping sites (< 2000 inhab) and effluents from installations such as purifying plants, livestock installations, warehouses, etc., based on "irrigation". Depending on the direction of the water they can be vertical or horizontal, but depending on the substrate and vegetation they are classified into: surface and horizontal flow, with macrophytes in flotation and floating species, or sub-surface flow.
02 WETLANDS
These are depressions in the ground or shallow reservoirs, covered with aquatic vegetation with a permanent sheet of water. They are designed to temporarily retain rainwater, allowing the sedimentation of suspended solids and the removal of contaminants through the intervention of vegetation (between 60-90% of contaminants).
Their high infiltration capacity makes them appropriate where there are large volumes of runoff. They can be integrated both in new developments and in urban environments.
► Aquatic plants:
EMERGING MACROPHYTES
• Typha spp. (FamilyTyphaceae)
• Phragmites australis (Cav.) Trin. ex Steudel (= P. communis Trin.)
REEDS: SCIRPUS SPP
• Scirpus lacustris L.
• Scirpus holoschoenus L.
• Scirpus validus Vah. (= Schoenoplectus tabernaemontani C.C. Gmelin) Palla)
FLOATING PLANTS
• Eichhcornia crassipes (Martius) Solms (water hyacinth)
• Lemna spp.
Diagram of artificial wetlands and treatment plants

Ensjøbyen Ecological Neighbourhood: Diagram of the wetland water collection and treatment system in Tiedemannsparken, Oslo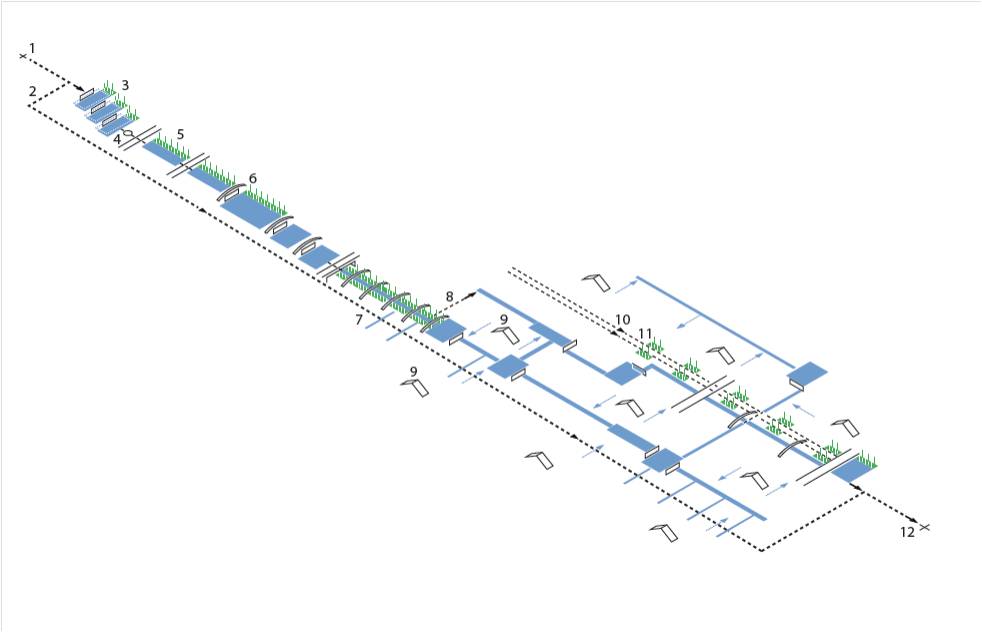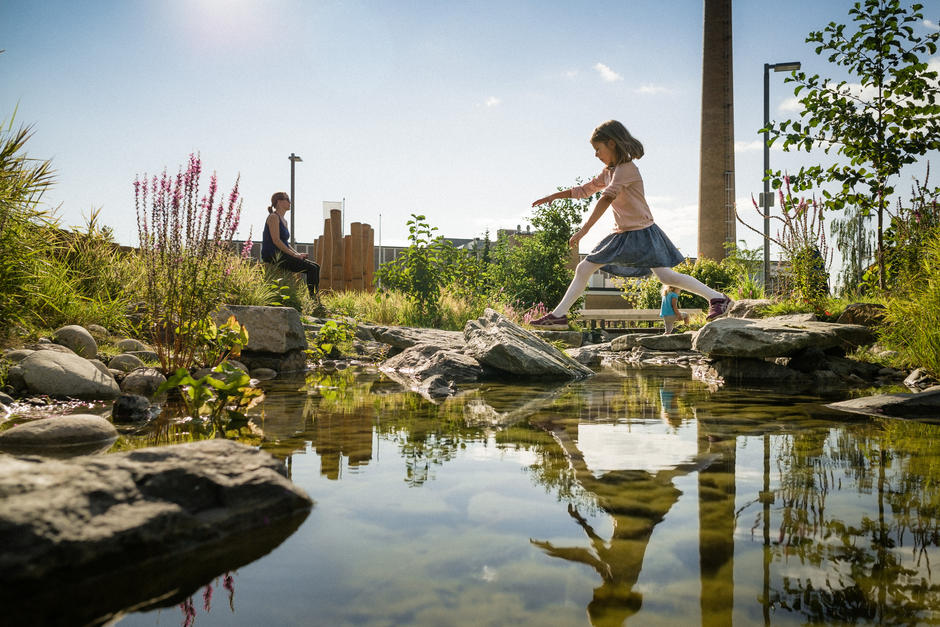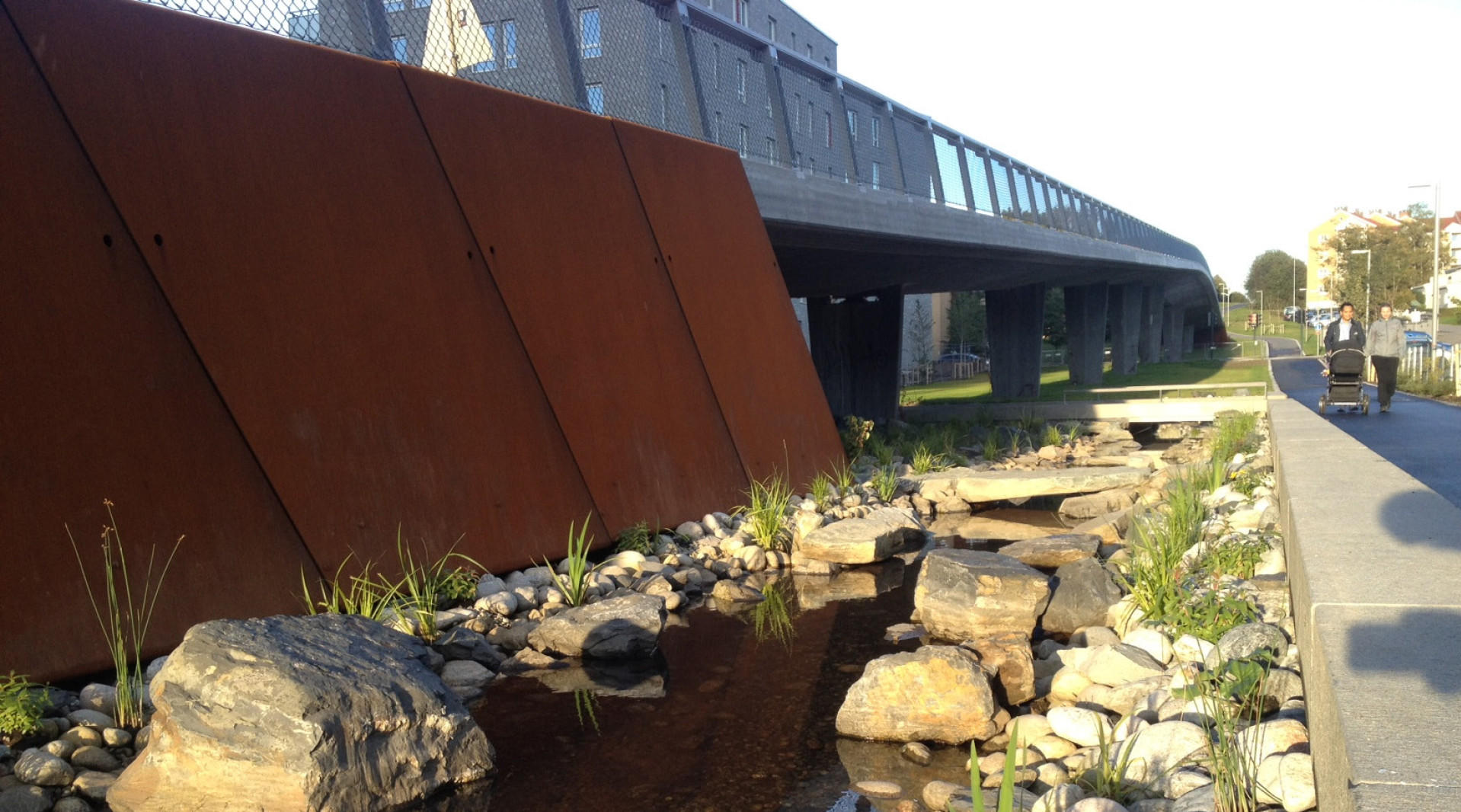 Two examples of artificial wetlands
The first case is made of a surface detention tank where the grass Purifies the runoff. In the second example, the purifier consists of an anaerobic digester, a vertical subsurface flow wetland and 3 horizontal subsurface flow wetlands in parallel.
Source: http://sedaqua.com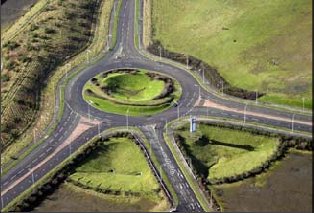 District scale intervention

SUITABLE FOR COMBINING WITH OTHER SOLUTIONS
Indicator
Reduction of energy consumption per m3 taken from the WWTP (∆CE)
Secondary indicator
Quality of surface and groundwater masses
Unit
(I1): Reduction of energy consumption per m3 that does not go to the WWTP (ΔCE)
(I2): Quality of surface and groundwater
Minimum goal
(I1) 100% treated wastewater
(I2) Compliance with the water quality required by the regulations
Desirable goal
(I1) 100% treated wastewater
(I2) Zero discharge of polluted water into the environment
Método de medición / Formula
(I1) ΔCE = [A x B]
A: m3 of treated water
B: Energy consumption in MWh per m3 treated at the WWTP
Development urban plans
Renovation of community spaces
Special plans (university areas, hospitals)
Neighbourhood Communities
Associations and cooperatives
Real estate developers
Maintenance companies, infrastructures, waste, etc.
Design and planning team
Possible actions promoted by the administration
– List of contaminants and advice on plants that can purify them.
– Volume of wastewater inhab/day
What should we consider for its implementation?
– It is recommended to guarantee the presence of a permanent sheet of water and a constant flow to ensure the good condition of the vegetation. This flow can sometimes come from other SUD systems or from the effluent of a WWTP.
– Low runoff velocities are needed to allow enough time for purification and infiltration.
– In 24 hours they must evacuate 100% of the runoff water, and it is required to consider a spillway as a safety system in the design.
– Maintenance must guarantee the elimination of solids, the regular cleaning of the entrance and exit of the system and the control of vegetation.