EC02 GREEN WASTE RECYCLING SYSTEM
Management of waste produced by the maintenance of landscaped areas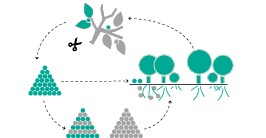 Aim
Recycling of waste produced in the maintenance of landscaped areas through its conversion into mulch and compost.
Why?
Maintenance work in landscaped areas generates a large amount of green waste, all of which is caused by man's control of shape and growth in the adaptation of a living material such as plant material to the urban environment. These wastes must be reused in the same areas in which they are produced, either in the form of crushed -mulch- or as oxidized aggregate of different organic materials -compost. The use of these materials is very beneficial in gardening work, and intervenes in the following aspects:
► Water Cycle and soil: Mulch prevents the evaporation of water in superficial soil layers and favors aeration, soil structure (aggregation of soil particles and protection against erosion) and, over time, drainage. Compost is a soil improver, produces the increase of organic matter and the sequestration of CO2, the reduction of the use of peat as topsoil and the increase of soil porosity, decreases the risk of erosion and the loss of moisture.
► Biodiversity: Both products increase the useful microfauna for soil life (pedofauna). Mulch provides good habitats for insects in the urban fabric.
► Root protection against extreme temperatures: Mulch acts as a natural surface temperature accumulator and frost protector. The compost allows the global control of edaphic temperature through the significant contribution of organic matter.
► Urban Metabolism: Both products are conceived to reintroduce organic matter into the soil. The aim is to reproduce and accelerate natural processes such as decomposition, oxidation, polymerization, humification and mineralization, through anthropic action.
►Economy: Both products have sales channels in case of generating surpluses (substrate sacks, mulch or other biomass derivatives). Public management can take over private waste through green employment.
How?
Creating a green waste reuse system that allows its reincorporation into the soil as organic matter. This system will be applied in the following ways:
► Dry, in the form of mulch, as dead coverings of the pruning remains (it is also recommended to collect the crop remains from the Agricultural Greenbelt, mowing of pastures, brush clearings, etc.).
► Processed, in the form of compost.
This system shall be applied on uncontaminated waste, absent from plant phytosanitary products. The evaluation and classification of waste is a very important operation: the application in the form of mulch is more sensitive to the original conditions of the material; in composting -during the thermophilic phase- pathogenic bacteria and parasites present in the original waste can be destroyed. The use of mulch from the pruning of species with phytotoxicity or very high fibre content (palms) is not recommended.
Although some substantial areas are managed on a semi-natural basis, where green waste can be left to biodegrade naturally, in most of the public space (parks, squares…) it is necessary to remove significant quantities. Leaf litter can create problems in the use of space (safety). Shrubberies and bedding displays, as well as senescent and dying specimens generate a substantial waste volume.
Below is a diagram describing the reuse of green waste, the mix is indicative: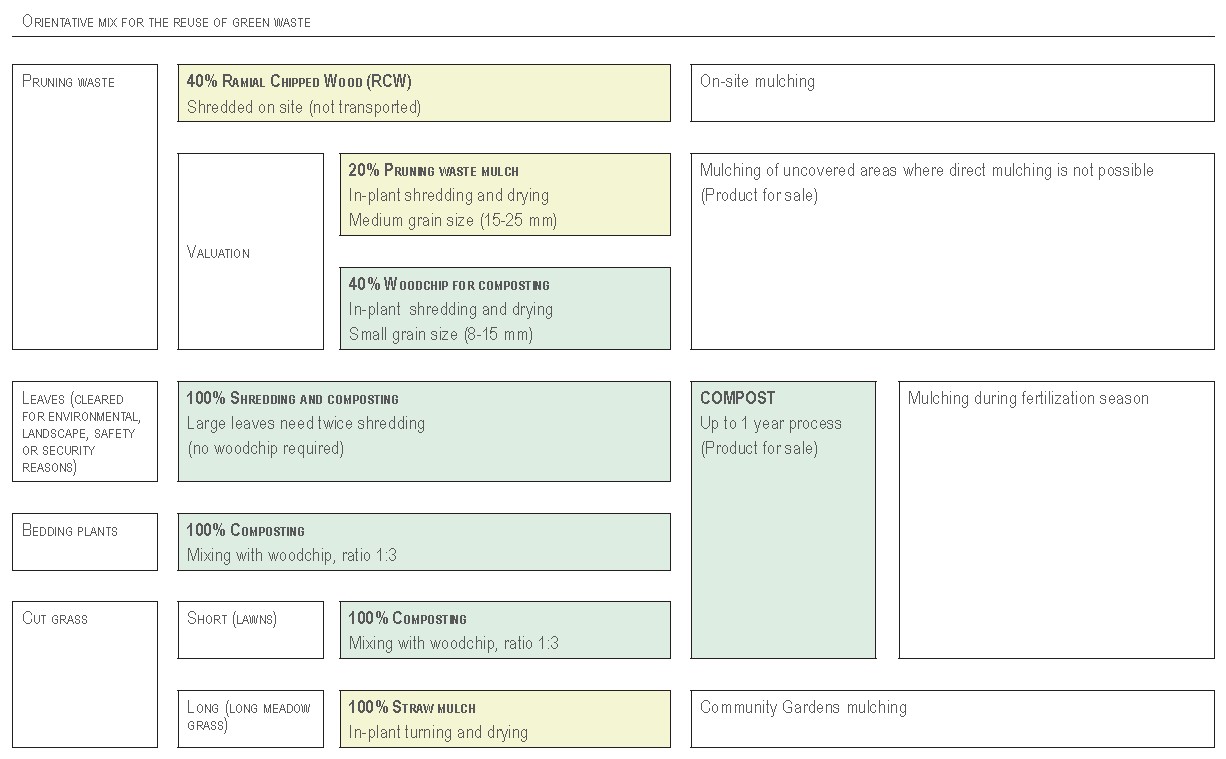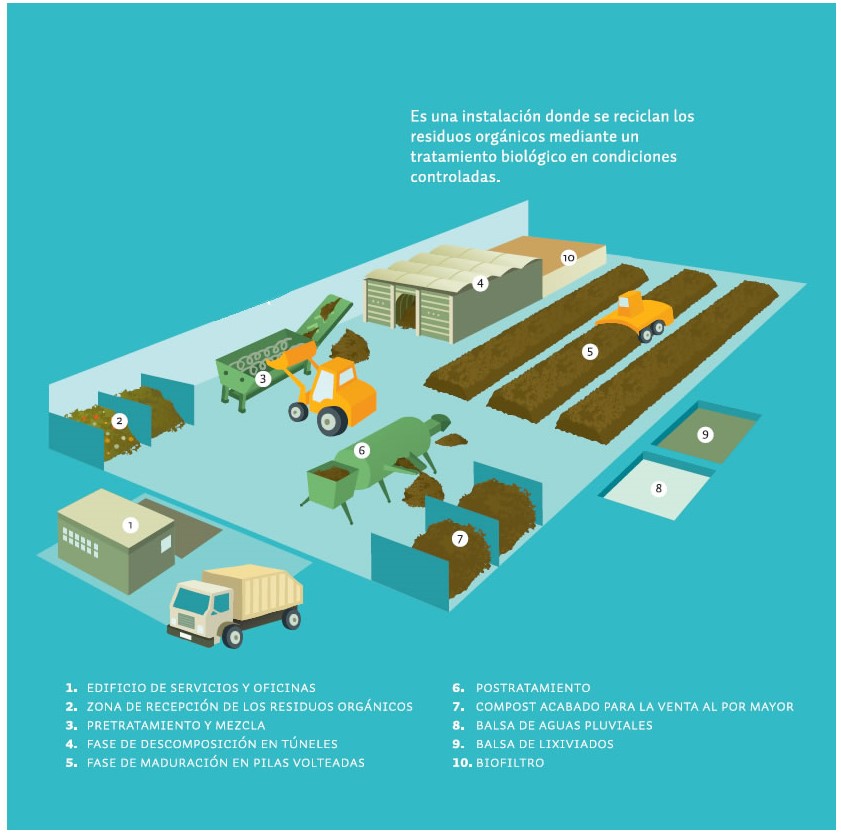 Sketch of a plant for green waste composting. Catalan Waste Agency, Catalonia (Spain)

Kensington Gardens, London (United Kingdom). Green waste treatment plant integrated in a historic and protected landscape.

SUITABLE FOR COMBINING WITH OTHER SOLUTIONS
Indicator
Reintegration of uncontaminated green waste produced into the Open-Space System (RvR)
Unit
%
Minimum goal
80% of uncontaminated green waste produced
Desirable goal
100% of uncontaminated green waste produced (elimination of chemical fertilizers and peat)
Measure method / Formula
RvR (%) = [A / B]
A: volume of uncontaminated green waste treated and reintroduced into the Open-Space System
B: inhabitants by neighborhood/district (waste produced in public open spaces from 9 to 35 m³ / ha·year)
Urban green space management
Local Government Technicians
Regional/General Administration Technicians
Water and natural resource managers
Urban green space managers
POSIBLE ACTIONS DEVELOPED BY THE ADMINISTRATION:
• Integration of green waste management in the Master Plans for the management and planning of Urban Green Infrastructure (IVU).
• Coordination with the urban waste management bodies.
• Creation of a sales and distribution network for the surplus product.
• Communication and awareness-raising actions.
• Elimination of chemical fertilizers and peat.
WHAT SHOULD BE CONSIDERED FOR ITS IMPLEMENTATION?
• It is necessary to have a specific treatment plant for green waste that should be installed in some space of the Urban Green Infrastructure (UGI).
• The costs of implementing this type of plant are high, but profitable in the long term.
• Simpler and less expensive techniques require greater space availability (aerated static piles versus vertical reactors).
• The treatment of green waste forms part of the integrated management of urban vegetation, assuming sustainable maintenance models.