LIFE Lugo + Biodinámico stands out in CONAMA2020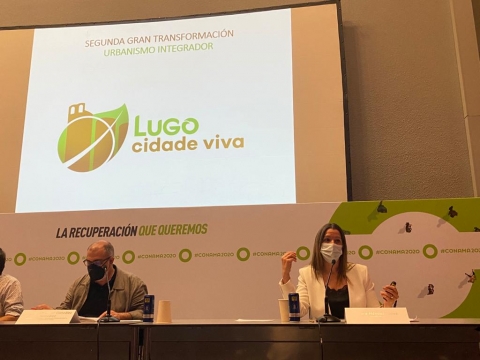 This year's edition of CONAMA, the National Congress of the Environment, has had the presence of of the LIFE Lugo + Biodinámco.
The LIFE project, which backbones Lugo's sustainable city brand abroad, "reinforces us not only as an innovative municipality in urban renewal but also as a pole of attraction for the implementation of companies linked to the bioeconomy and circular economy". This was pointed out by Mayor Lara Méndez during her participation in this Congress, the largest environmental meeting in the country, which has been held under the slogan "The recovery we want".
At the table in which LIFE Lugo + Biodinámico participated, which shared a presence with Salamanca, Barcelona and Madrid, the Mayor indicated that the work that has been carried out in the last six years faces a transformation into Green is also proving a catalyst when it comes to diversifying the economy, "because if cities do not work on being more resilient in the fight against climate change at the same time as in a new economy, our youth will continue to go abroad in search of opportunities, no matter how pleasant we make our territories".
Of the projects presented by Lugo, in addition to Muramiñae, those who have generated the most expectation have been those who make up the LIFE Lugo + Biodinámico, specifically the Impulso Verde building since its 100% certified Galician wood construction allows energy savings of 74% and a 95% reduction in CO2 emissions, which makes it a benchmark in the fight against climate change, and the Barrio Multiecolóxico, the first in Spain in which the green and public spaces with respect to the PXOM, for two the equipment s and promotes public housing, allocating 45% of them. Lara Méndez has defined this neighborhood project "as an urban village", because "its sustainable conception also seeks greater intergenerational relationships and between neighbors, as well as changes in life habits".