LIFE Lugo + Biodinámico will be the protagonist of a course on sustainable construction with cross-laminated wood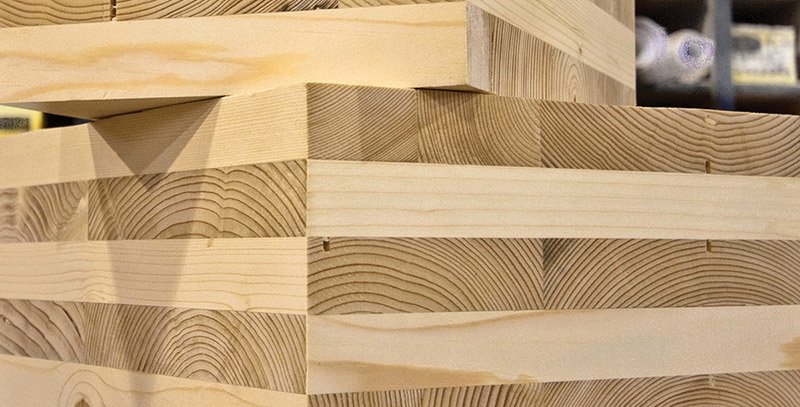 The LIFE Lugo + Biodinámico project will participate on November 19, 20 and 21 in a course on construction with cross-laminated wood organized by PEMADE, in which Xilonor (CLT manufacturer) collaborates. This activity [edit 3/11/2020] will be carried out online due to the new sanitary restrictions due to the COVID-19 crisis.
The cross-laminated timber or CLT is a product composed of several layers of wood glued longitudinally and transversely, which provides all the advantages of solid wood while shortening construction times, so it is a sustainable product that provides great insulation from high and low temperatures and against fire. Cross-laminated wood allows the development of roof, slab and wall elements that meet both the structural criteria of the technical building code, as well as the principles of highly energy-efficient construction, since they regulate humidity and create comfortable indoor environments.
From LIFE Lugo + Biodinámico we invite all those interested in the new efficient and sustainable construction models to participate and learn, from the hands of the Campus Terra experts and professionals in the sector at an international level, the projects, tests and advances that the research and development of construction with cross-laminated wood contribute to the present and future of building.
The three-day course will include topics such as the presentation of the Impulso Verde building, the first public building in Galicia built exclusively in native wood, the Passivhaus criteria or the energy saving of wood construction and its technical specifications. In addition to the presence of the Mayor of Lugo, Lara Méndez, during its inauguration the course will include members of the Lugo County Council and the USC Rector's Office, as well as the organizers PEMADE and Xilonor.
The course opens the registration this Monday, September 21, to make known first-hand the benefits that construction with cross-laminated wood has for citizens and the environment. The registration can be done through this form. The 50 places of the course are already full, but we have a waiting list open.
Check the program here: CURSO ONLINE CLT_LIFE LUGO+BIODINAMICO