The LIFE Program applauds the commitment of LIFE Lugo + Biodinámico to the use of wood in construction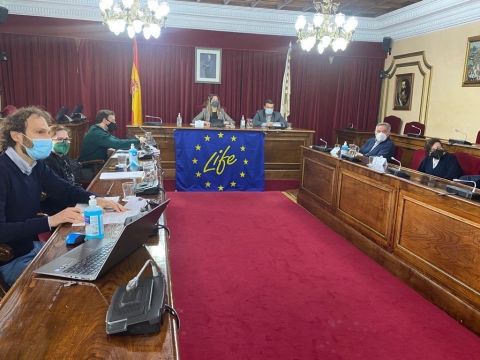 On April 27, a new session of the management and direction committee of LIFE Lugo + Biodinámico /strong>, in which the European Commission was informed of the progress of the project. Dimas Ramos, monitor of the European Climate Executive Agency, of the European Commission, participated in this meeting, who conveyed to the mayor of Lugo, Lara Méndez, the support from Europe for the initiatives that the project is developing. Specifically, the commitment to the use of wood in construction and the impulse that this election has in the forestry sector are the axes that stand out the most from the LIFE Program.
"Europe is very attentive to Lugo's project, which seeks to naturalize cities", said Dimas Ramos, who stressed that although the commitment to "more open, sustainable and pleasant cities for citizens and their environment was a clear European line, after the pandemic it is seen that it is even more important". In the case of the strategy promoted by the LIFE Lugo + Biodinámico project, he pointed out that "one of the biggest impacts it is having is that wood is beginning to be seen not only as a material for traditional use or ornamental, but as an advanced and modern material for construction".
Mayor Lara Méndez highlighted on her part that the study of the environmental improvements involved in the different actions of LIFE Lugo + Biodinámico "will also be a catalyst to continue planning the sustainable city in which we work". In addition, he had an impact on "the environmental, social and economic transforming effect of this strategy for Lugo, which goes beyond its duration and its actions, because it transforms it in a combative and proactive city in the fight against climate change. They are projects that provide opportunities, which generate economy and employment through natural resources, such as wood as a structural element, without forgetting the social part and the recovery of public spaces".
Also participating in the committee were the councilor for Urban Sustainability, Álvaro Santos, and representatives of the institutions that collaborate with the project: the Lugo County Council and the Universidade de Santiago de Compostela, which was attended by Mª Dolores Vega, Antonio Rigueiro and Belén Feijóo from PEMADE and the Universidad Politécnica de Madrid, represented by Luis Ruíz.