You can now check Lugo's air quality on our website
One of the commitments of the LIFE Lugo + Biodinámico project is to improve the air quality of the city of Lugo.
Among many other, some of the actions that will lead us to achieve this goal is the plantation of autochthonous arboreal species that guarantee a high CO2 absorption.
From now on, our website has a space dedicated to the air quality measurement, which is visible in the footer. This table, which collects official and updated data several times a day from Meteogalicia, provides information relative to the levels of different components that can be found in the air of the city and that will determine its quality: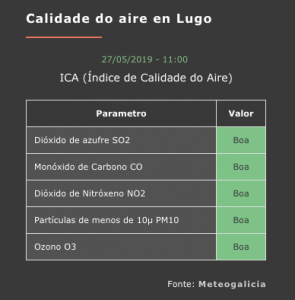 The volume of sulfur dioxide, carbon monoxide, nitrogen dioxide, particles of less than 10μ (dust, pollen, smoke and other components suspended in the air) and ozone O3 are what indicate the quality of the air we breathe. If the rates are good (low) it is considered that the air in the city is breathable and of good quality for all people, regardless of their condition. If the rates go up, there will be people with respiratory diseases that may have problems, or even could lead to pollution alerts or particles in suspension that take to actions applied in other cities like the ban of road traffic or similar.
If you want to consult it, go to our website footer and visit it. There you have all the information you need!