The Mayor of Lugo supervises the first steps of the construction of the Impulso Verde building
The works to build the Impulso Verde building inside the Multi-ecological neighborhood of the LIFE Lugo + Biodinámico are progressing at a good pace. At the end of last year a concrete slab was placed as the base of the building, located in the A Garaballa neighborhood, on which the project's flagship has been rising since last week, a pioneering construction made of 100% Galician certified wood that stands out for its sustainability and efficiency. On Thursday 28, the installation of the central structure of the building began, after the check-in of the first trucks with the certified wood from A Mariña that will be used, from Hijos de Ramón Rubal sawmill, located in Alfoz.
The Mayor of Lugo, Lara Méndez, has supervised these first steps, stating that "in just 24 hours we have been able to see how the construction of the structure, thanks to this building model, progresses at a very rapid pace. In the coming days we will be able to observe how the different parts of the building, which will have three floors, evolve and are being assembled. Hopefully the entire structure may be completed by mid-March."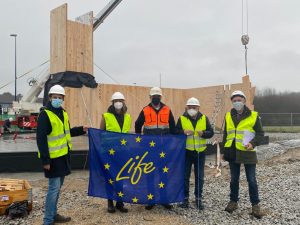 The construction of the building is based on a CLT panel assembly. These panels are raised on the concrete slab and are joined together using specific metal brackets and lag screws. Once the main structure has been erected in CLT, the laminated wood frame of the south facade will be assembled and, once assembled, it will be raised to have the remaining panels of that façade located and then assembled. The façade will feature a gridshell and also with a slate cover.
Impulso Verde, with almost zero energy balance, will emit 90% less CO2 into the atmosphere. In addition, it will imply a energy consumption savings of 74% compared to existing office buildings, and 54% compared to new construction. From a spatial point of view, the building will connect the user with nature through the use of wood and the insertion of landscaped spaces, intended for rest and relaxation, as it will be surrounded by a new park with draining pavements, native species, rain gardens and a large area of ​​urban gardens.
For public use and with permanent activity, Impulso Verde will house municipal services, in addition to a coworking for companies related to the environment and climate change.