The City Council of Lugo presents the characteristics of the Impulso Verde building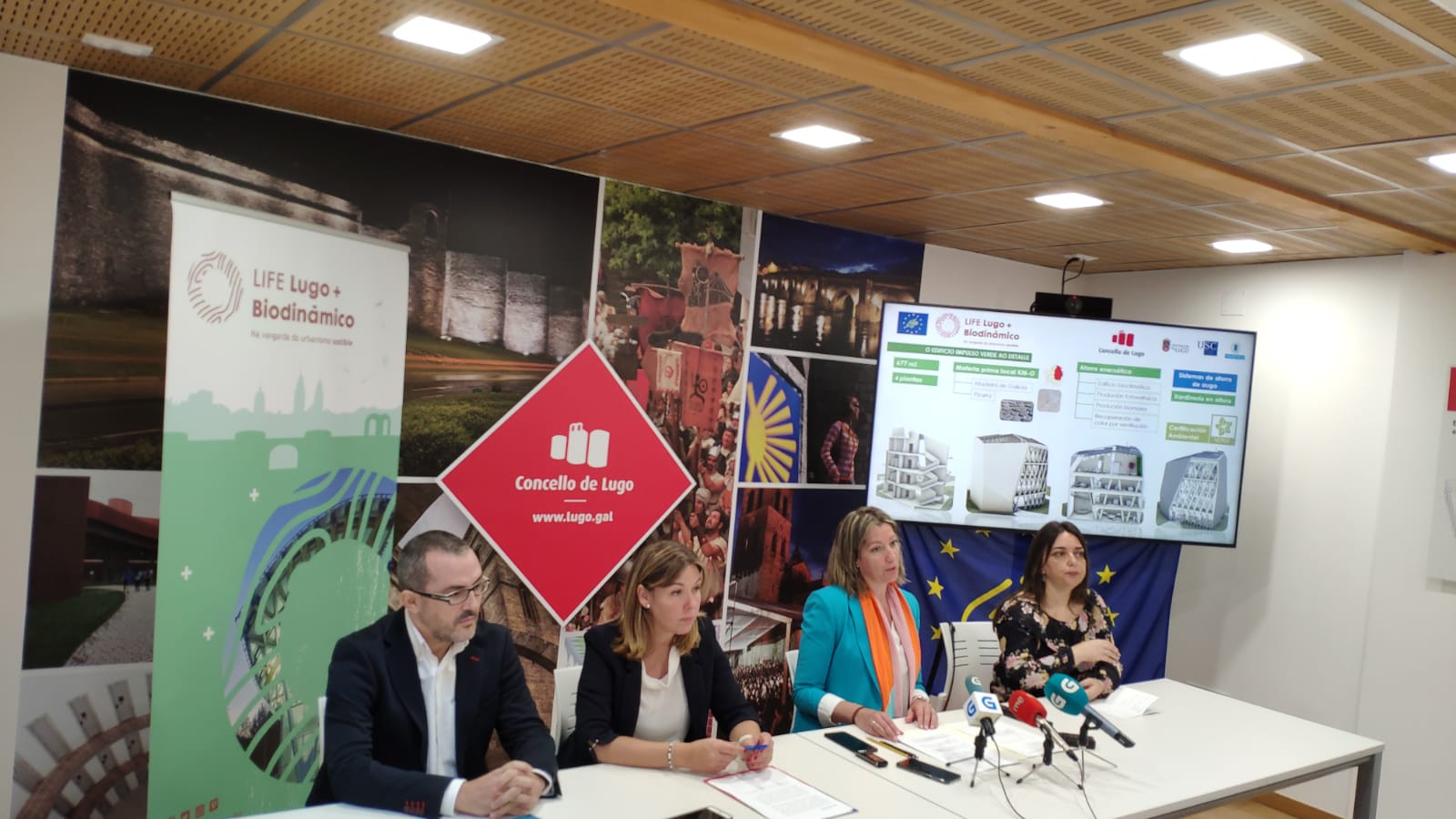 On Tuesday, August 6, the presentation of the energy and consumption characteristics of the building Impulso Verde, by the Mayoress Lara Méndez, took place in the Lugo City Hall.
Impulso Verde, which will be built in A Garaballa, will save 74% of energy consumption and reduce CO2 emissions by 90%. This will be the first public building in Galicia made of autochthonous wood and the first step of the first multi-ecological neighbourhood in Spain, and its tender will be approved at the next Local Government Meeting which will take place today, Wednesday 7 August. It will have a budget of 1,040,503 euros for its development and the execution period will be 12 months maximum.
The presentation of the characteristics of the building was made with the representatives of the project partners LIFE Lugo + Biodynamic: Pilar García Porto, spokesperson of the Deputación; Belén Feijóo, architect of the Campus Terra, and Luis Ruiz, of the UPM. "This pilot building is born with the vocation of becoming a reference in the fight against climate change in Galician society, proposing a new construction model made entirely with local wood structure", said the Mayoress. For this, she insisted, "it will mean a real revolution in the urban construction model, based on the best we have, our natural resources, to minimise the environmental impact and improve the quality of life of the people of Lugo".
The Impulso Verde building will have an energy balance almost zero, that is to say, it will be able to produce its consumption with alternative energies. When it is built, it will be monitored to evaluate its performance and even detect whether it can produce more energy than it consumes. The building will connect the user with nature through the use of wood and the insertion of landscaped spaces, intended for rest and relaxation as it will be surrounded by a new park with draining pavements, native species, rain gardens and a large area of urban gardens. For public use and with permanent activity, Impulso Verde will house municipal services, as well as co-working for companies related to the environment and climate change.
You can consult all the data related to the energy consumption of Impulso Verde in this downloadable: Presentación características Edificio Impulso Verde